Bolder than blood
Fleshier than a whole collection
Of summer spots

You wear your heart inside out
With sun-stained seeds

We wrap your body greedily
With our tongues and minds


© by Changming Yuan.
Used with the author's permission.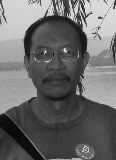 Changming Yuan, 4-time Pushcart nominee and author of Chansons of a Chinaman, grew up in rural China and published several monographs before moving to Canada. With a PhD in English, Yuan currently teaches in Vancouver and has had poetry appearing in nearly 550 literary publications worldwide, including Asia Literary Review, Best Canadian Poetry, BestNewPoemsOnline, Exquisite Corpse, London Magazine, Paris/Atlantic, Poetry Kanto, SAND and Taj Mahal Review.
Tyler Gabrysh:
Simply stated, I always enjoy Changming's work!
Posted 03/05/2013 11:39 AM
Jo:
Agree with all of you, and thanks Kevin for adding the additional info. Yes, Jayne, it does remind me of Swenson's opening line. Really enjoyed reading this. Thank you.
Posted 03/05/2013 11:26 AM
jayne:
Changming's wonderful first line brings to mind the first line of May Swenson's "Strawberrying:" "My hands are murder red . . . "
Posted 03/05/2013 10:37 AM
KevinArnold:
I like 'You wear your heart inside out' Those tiny seeds that complicate botanists' categorizations. And yes, pwax, a zowie opening line. My research found: There is a theory that strawberries were named by 19th century children who picked the fruit, strung them on grass straws, and sold them as "Straws of berries." The poem makes me hungry for one--great work.
Posted 03/05/2013 09:33 AM
lisa honecker:
amazing something as simple as eating a strawberry.
Posted 03/05/2013 09:27 AM
pwax:
Wonderful opening line!
Posted 03/05/2013 07:02 AM