I'm sitting at a stoplight
behind a white-haired woman
in a maroon sedan.
She's missing her chance
to turn right on red
while the cross traffic
has a left arrow.
Her fluffy head turns
left right left right
but the car idles.
I'm running a little late.
The two cars that
nipped around her
before the intersection
recede into the distance
but I'm thinking about my mom
who doesn't drive anymore
and about my dad
whom nobody passed
even in the days
of towing the sailboat to the cottage
five kids piled in the station wagon
no seatbelts
and I'm thinking about my husband
whose blood pressure would be
unhealthily high by now
and I'm blessing
this old lady
though hoping
that at the next corner
she'll go one way
and I another.
© by Sarah Gilbert.
Used with the author's permission.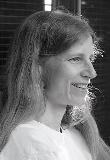 Sarah Gilbert lives in Appleton, WI. A retired La Leche League Leader and homeschooling mom, she serves as regional VP for the Wisconsin Fellowship of Poets and coordinates monthly poetry readings at a local cafe.  Her dormant poetry writing was awakened in 2000 by the second of four (so far) Lynch Syndrome hereditary cancers. Sarah also weaves, gardens, and makes a fine lap for her three cats.
ed werstein:
great poem, Sarah.
Posted 03/10/2013 01:30 PM
marenomitchell:
Thanks for the reminder that anything can have a good aspect! Perfect.
Posted 03/09/2013 11:45 AM
barbara eknoian:
Sweet! We need more drivers like Sarah in traffic.
Posted 03/09/2013 11:38 AM
pwax:
Good poem, Sarah. And another example of how any life experience, however small, can provide inspiration for poetry. Phyllis
Posted 03/09/2013 10:40 AM
Judith Heron:
Ah, when poetry and philosophy intersect at the crossroads of compassion. You are among the few who can do this so simply and elegantly. You bless us all. With much gratitude. Judith
Posted 03/09/2013 10:32 AM
KevinArnold:
A moment, expanded.
Posted 03/09/2013 10:24 AM
Dorcas:
Driver's reflection; a good way to pass the time waiting for the light.
Posted 03/09/2013 10:02 AM
jeanie:
great poem sarah! thank you. yes. bless the turtles.
Posted 03/09/2013 09:21 AM
nancilee:
Sarah. Youve captured a moment on the page that we have all experienced. Great job. Now a poem for the guy who cuts you off, yells and gives you the all too familiar gesture!
Posted 03/09/2013 08:51 AM
nscott29@aol.com:
We have cameras at some intersections, and if you make that right turn without waiting long enough, you get dunned a $140 ticket. Most of us just wait out the light, even if it's safe and legal to turn. So patience save money as well as lives. Like the poem though, even if I am one of those white-haired drivers.
Posted 03/09/2013 08:24 AM
Wilda Morris:
Poems like this one could make all our lives better, if we would just learn from them!
Posted 03/09/2013 07:58 AM
Charly:
Hey Sarah.. Great poem... Miss you guys!!! Merle Hazard
Posted 03/09/2013 07:50 AM
mimi:
been there (behind, that is)! lovely poem, Sarah, thanks. Sharon Auberle
Posted 03/09/2013 07:40 AM
wordsmith:
Wonderful poem, beautiful person in every way!
Posted 03/09/2013 07:38 AM
Glen Sorestad:
I love the way the seemingly insignificant moment expands its scope to take in a whole family. Well done, Sarah.
Posted 03/09/2013 07:33 AM
TheSilverOne:
Wonderful Poem....Hmmm, I'm wondering if that old lady was me.
Posted 03/09/2013 06:57 AM
Kay Sanders:
Wonderful poem, Sarah. I'm so glad to get a peek into your Driver's Manual and hope that when I am that old lady, there will be a Sarah behind me, blessing me.
Posted 03/09/2013 06:19 AM
Maryann Hurtt:
Ahh...the impossibility of patience captured so well.
Posted 03/09/2013 06:17 AM
Larry Schug:
Good things come to those who wait--like good poems!
Posted 03/09/2013 06:16 AM
erinsnana:
I love this poem! Great images...
Posted 03/09/2013 05:51 AM