So much music in a paper tube:

a whispering, precise diction—

crickets! racketing their brittle song,

a tunnel of grace notes and raspy vocabulary

Scrabble tiles spelling a skedaddle of mice in the walls,

crisp leaves scuffing down the tree-canopied street,

hoof beats of time's tiny cavalry:

my children's running footfalls followed by my grandchildren's.

the sound of water made by what is dry,

computer keys tapping out some message

a tumultuous train of thoughts

on a short, impeded journey to nowhere.

many small hands applauding the day.

 

Used with the author's permission.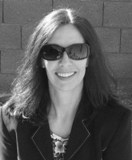 Paula Schulz has taught students in kindergarten, college, and a few grades in between. Involved with the Poetry People in Waukesha and, for the last two years, the Pewaukee Area Arts Council's ekphrastic project, Paula lives with her husband in Slinger, Wisconsin.
apersephone:
The sounds are lovely.
Posted 04/13/2013 06:25 AM
Rogers:
Great poem.
Posted 03/20/2013 11:16 AM
Janet Leahy:
Love this poem Paula, I too remember it as Jo does from class, wonderful opening line.
Posted 03/19/2013 05:14 PM
transitions:
There is so much music and wisdom in these 'ordinary' words that flow together in such an extraordinary way in this oh-so memorable poem. A wonderful talent, run amok! I loved it ~ Judy
Posted 03/19/2013 11:52 AM
Jo:
Wonderful Paula. I remember in class once when you spoke of a rain stick and I'd never heard one--I have my own now, and it does indeed make the most imaginative sounds. Thanks again for the musical reminder.
Posted 03/19/2013 11:32 AM
LindaCrosfield:
I love rain sticks and this poem really captures what they sound like. Great imagery.
Posted 03/19/2013 11:19 AM
Gene:
Incredible images, deep thoughts, and honest emotions. Wonderful poem! Thanks, Paula. Please let readers of this wonderful site know when you put out your first collection. Gene
Posted 03/19/2013 09:46 AM
hujsaked@aol.com:
Just great! Imagination run amok. Wish I'd had some of those lines for a recent poem for a recent poem about a covered bridge that measured out a hundred year symphony.
Posted 03/19/2013 09:35 AM
wordsmith:
Fabulous. Thank you, Mandi
Posted 03/19/2013 09:32 AM
Glen Sorestad:
What a treat for the ears!
Posted 03/19/2013 08:47 AM
Larry Schug:
Just say the word "crickets" aloud three times; you've just made a rain stick! Now say "a skedaddle of mice,"--there's rhythm in the air! Awesome, Paula!
Posted 03/19/2013 07:51 AM
erinsnana:
beautiful! great images!
Posted 03/19/2013 06:56 AM
TheSilverOne:
It was a joy to read this wonderful poem. Slinger..Ah, my early years.
Posted 03/19/2013 06:38 AM
Ron. :
Slinger is a good place for her. This lady slings verse of the highest caliber. My hat is tipped while I'm bowing before her talent. Salute!
Posted 03/19/2013 04:09 AM