Let the old snow be covered with the new:
The trampled snow, so soiled, and stained, and sodden.
Let it be hidden wholly from our view
By pure white flakes, all trackless and untrodden.
When Winter dies, low at the sweet Spring's feet
Let him be mantled in a clean, white sheet.
Let the old life be covered by the new:
The old past life so full of sad mistakes,
Let it be wholly hidden from the view
By deeds as white and silent as snow-flakes.
Ere this earth life melts in the eternal Spring
Let the white mantle of repentance fling
Soft drapery about it, fold on fold,
Even as the new snow covers up the old.
This poem is in the public domain.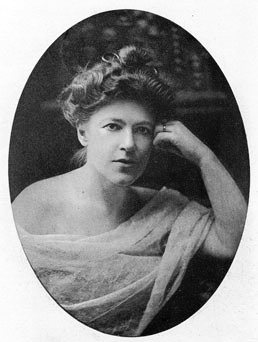 Ella Wheeler Wilcox (1850-1919) was a popular and prolific poet. Published and lauded before she even graduated from high school, Ella preferred to write happy, upbeat poetry and was much beloved for it. More than a dozen of her poems are included in the book, Best Loved Poems of the American People (Doubleday, 2008). The familiar saying, "Laugh and the world laughs with you, weep, and you weep alone. . ." comes from her best-known poem, "Solitude." A morally strong and spiritual person, Ella believed that her purpose on earth was to practice kindness and service. Read more about her here.
twinkscat:
Wow. Hard to believe Ella is my great-great-great aunt, although related on my husband's side. Her poetry is definitely positive, upbeat. I even have one of her poems on my bathroom wall (Solitude).
Posted 03/20/2013 01:56 PM
KevinArnold:
One of my favorite poets, with a wonderful poem I'd somehow missed. "Let the old life be covered by the new," indeed.
Posted 03/20/2013 08:39 AM