Swirl of crowded streets. Shock and recoil of traffic. The stock-still
brick facade of an old church, against which the waves of people
lurch and withdraw. Flare of sunshine down side-streets. Eddies of light
in the windows of chemists' shops, with their blue, gold, purple jars,
darting colours far into the crowd. Loud bangs and tremors,
murmurings out of high windows, whirring of machine belts,
blurring of horses and motors. A quick spin and shudder of brakes
on an electric car, and the jar of a church-bell knocking against
the metal blue of the sky. I am a piece of the town, a bit of blown dust,
thrust along with the crowd. Proud to feel the pavement under me,
reeling with feet. Feet tripping, skipping, lagging, dragging,
plodding doggedly, or springing up and advancing on firm elastic insteps.
A boy is selling papers, I smell them clean and new from the press.
They are fresh like the air, and pungent as tulips and narcissus.

The blue sky pales to lemon, and great tongues of gold blind the shop-windows,
putting out their contents in a flood of flame.


This poem is in the public domain.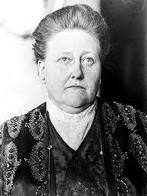 Amy Lowell (1874 - 1925) was born in Brookline, Massachusetts, to a family of significant wealth and social standing. In keeping with the standards of the time, she received little formal education and was, in fact, a notoriously poor speller, but she was an avid and discriminating collector of books, traveled extensively, and educated herself in many areas. Amy began writing and publishing when she was in her mid-twenties and, at one point, was publishing a book a year. A large, imposing woman fond of smoking cigars, Amy was a good promoter and a vocal advocate of poetry; that plus her reputation for eccentricity brought sell-out crowds to her readings and lectures.
marenomitchell:
This poem reads so "now" both in style and content. Pulls that time close to us!
Posted 03/26/2013 11:14 AM
KevinArnold:
I notice the not-unwelcome intrusion of technology into nature (the blurring of horses and motors, chemists, electric cars, elastic insteps, the smell of newspapers) and nature overwhelming at the end.
Posted 03/26/2013 10:58 AM
Janet Leahy:
I can see and feel this city, reminds me of Michigan Avenue in Chicago.
Posted 03/26/2013 07:59 AM
JLSchuster827:
The gold tongue just lit my day. Thank you, Jayne, for sharing this beauty.
Posted 03/26/2013 04:22 AM