Driving to the next hurried errand
with a list swimming in my head,
I brake for the web-footed family—
but walking tall in a single straight line
headed in the opposite direction—
five dark gray long-necked profiles     
cars behind them crawling.
I hear myself exclaim delight
at this sweet, slow-moving sight.
not citing lilies of the field
or birds of the air
right here on the blacktop.
From Simple Awakenings (2010).
This poem previously appeared in the St. Anthony Messenger.
Used here with the author's permission.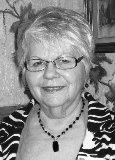 Camille A. Balla is an award-winning poet whose work has been published in regional and national publications as well as on websites and in greeting cards and gift items. Camille lives in west suburban Chicago, where many of her poems are inspired from the view outside her window or from walking along local trails. A life-long student of "life", she attends and participates in various personal development programs, some of which spills into her poetry. In 2010, she completed her first chapbook, Simple Awakenings, and she is working on her next collection. Camille enjoys art fairs, garden walks, taking photos, dancing, occasional travel, and sharing her poems at open mics.
Rogers:
I love geese and your poem about them!
Posted 03/29/2013 03:20 PM
twinkscat:
Such a nice tribute to nature and the interruption of our "busy" days...
Posted 03/27/2013 10:10 AM
Wilda Morris:
I loved this poem the first time I read it, Cami! I think of it when I see geese on the road, as I did yesterday.
Posted 03/27/2013 09:42 AM
Dorcas:
Very nice. This reminds me of a poem a friend of mine wrote about a little green turtle crossing a road. Thanks.
Posted 03/27/2013 08:35 AM
njc:
"A sunny sermon quietly breaks through"--perfect! Thank you.
Posted 03/27/2013 08:15 AM
Charly:
Love it, Cami!!! Merle
Posted 03/27/2013 06:32 AM