See the land, her Easter keeping,
Rises as her Maker rose.
Seeds, so long in darkness sleeping,
Burst at last from winter snows.
Earth with heaven above rejoices;
Fields and gardens hail the spring;
Shaughs and woodlands ring with voices,
While the wild birds build and sing.
You, to whom your Maker granted
Powers to those sweet birds unknown,
Use the craft by God implanted;
Use the reason not your own.
Here, while heaven and earth rejoices,
Each his Easter tribute bring -
Work of fingers, chant of voices,
Like the birds who build and sing.
This poem is in the public domain.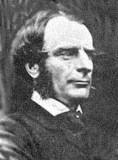 Charles Kingsley (1819 – 1875) was an English writer, minister, and university professor. He wrote in multiple genres, including several books for children, and was especially interested in history and sociatal standards and conditions.
KevinArnold:
The two last lines linger . . . fine work.
Posted 03/31/2013 01:02 AM
WilliamEverett:
Thanks for putting a little spotlight on Charles Kingsley. Having just returned from two months in South Africa, I'm always aware of how much of our Easter understanding is entangled with the seasons. In South Africa, it occurs in the fall, just as the Easter message battles with the oncoming rains and cold winds of winter at the Cape. All you have is the strange and miraculous message of resurrection. I wonder how we would do stripped of the seasonal cocoon in which we wrap this day in the north.
Posted 03/30/2013 09:15 AM
paradea:
One to learn by heart and go outside and recite!!
Posted 03/30/2013 09:12 AM
penhart:
Beautiful poem --- by an ancestor of mine :). I didn't know of it. Thanks!
Posted 03/30/2013 08:29 AM
Dorcas:
Absolutely lovely, enlightening and filled with hope. Raising a dawning of inspiration. We rise with Him.
Posted 03/30/2013 07:05 AM
Katrina:
'The Water-Babies'may be Charles Kingsley's most famous work, about a chimney sweep. It is free to download and there is a lot of poetry in his prose.
Posted 03/30/2013 04:10 AM