Let me tell you how today, filled
with fancy, she fell to her face,
†
with eau de earth, eau de clover,
eau de grasshopper, worm, beetle,
romping in the grass, in the salubrious air
thick with spring and all things new.
†
And scattered throughout our adjoining acre,
a thousand white dandelions,
the heads of old men nodding,
hardly hanging on to every last hair.
†
She wanted to go there, roll in that field, too,
release all those seeds into the atmosphereó
kicking up a sweet and wild bouquet
and her own gleeful sneezing
†
as theyíd float like feathers in the breeze,
land like snowflakes on her black coat.
O, that Labrador look, that side-slung tongue,
those boisterous, brown eyes that yes, Iíll just say it,
embody bliss. What luxury
of Ohio, here and nowhere else,
I tell you today and no other day.
†
†
This poem first appeared in Sou'Wester and appears in Moore's manuscript, Scandal of Particularity.
Used here with the authorís permission.
†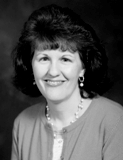 Julie L. Moore believes that writing poetry can be like a game, for it can manipulate language, satirize our clever, yet shallow, society, and even crack jokes. But thatís not why she jots notes in her moleskin while washing dishes, playing summer tourist, or trying to endure prolonged and painful illnesses. For her, itís about saving a life: her own and--she hopes, if she's any good at it--someone elseís. Author of†Slipping Out of Bloom†(WordTech Editions) and†Election Day(Finishing Line Press), Julieís award-winning work has been published in numerous journals. Julie lives in Cedarville, Ohio; read more about her at†www.julielmoore.com.
Jo:
That side-slung tongue--I see it on the green lap of Ohio here and nowhere else-- some of my favorites in this exuberant poem. Thanks Julie.
Posted 04/03/2013 08:31 PM
rebeccamills:
Cannot wait to share this with a few of my nature-loving friends. every sense liked it.
Posted 04/03/2013 06:58 PM
transitions:
"here on the green lap of Ohio" - loved that and loved this wonderful 'nothing-like-dog happy' poem. Judy
Posted 04/03/2013 12:19 PM
lincolnhartford:
Now if this year's spring would only catch up with last year's poetry. Nicely crafted. Hooray for "salubrious".
Posted 04/03/2013 09:05 AM
njc:
Nice! After reading this & knowing it was about a dog, I re-read it picturing a young girl instead. I can almost see my young-old self doing this once our snow is finally gone--except for the side-slung tongue! Love the lines about the dandelions.
Posted 04/03/2013 08:26 AM
Anjie:
Julie, You rock! This is absolutely lovely. I can see it all, and I enjoyed it. Thank you!
Posted 04/03/2013 08:06 AM
MaryLeeHahn:
"O, that Labrador look, that side-slung tongue," I know that look well!
Posted 04/03/2013 04:47 AM