Just as we lose hope
she ambles in,
a late guest
dragging her hem
of wildflowers,
her torn
veil of mist,
of light rain,
blowing
her dandelion
breath
in our ears;
and we forgive her,
turning from
chilly winter
ways,
we throw off
our faithful
sweaters
and open
our arms.

From Heroes in Disguise (W.W. Norton & Co., 1991)
Used with the authorís permission.
†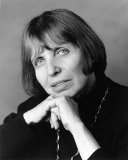 Linda Pastan grew up in New York City, graduated from Radcliffe College, and received an MA from Brandeis University. She has published 13 volumes of poetry, two of which have been finalists for the National Book Award; her newest is†Traveling Light†(W. W. Norton).††Linda's poems have appeared in many journals, including†The Atlantic Monthly, The New Yorker, The Nation,†and†The Georgia Review. She has been Poet Laureate of Maryland, and in 2003 won the Ruth Lilly Poetry Prize for lifetime achievement. Linda lives with her husband in Potomac, Maryland; they have three children and seven grandchildren.
mpcamb:
made me laugh. Liked the image of Spring not as a gauzy, gentle maiden, but rather as a late-arriving disheveled hussy.
Posted 04/13/2013 12:09 PM
apersephone:
Yes! It's been a long winter out here, watching stocky tow trucks reel around corners looking for a hot ticket.
Posted 04/13/2013 06:15 AM
transitions:
Won't soon forget 'drzgging her hem of wildflowers'...too true; lovely poem. Judy
Posted 04/03/2013 11:56 AM
LindaCrosfield:
Click! Captured! Love this one.
Posted 04/02/2013 11:36 AM
KevinArnold:
What a wonderful spring poem. Faithful sweaters indeed.
Posted 04/02/2013 10:35 AM
Wilda Morris:
Yes, when she comes "dragging her hem / of wildflowers" we do forgive her! A wonderful poem.
Posted 04/02/2013 10:17 AM
wendy morton:
This is a poem for breathing in, breathing out. Ah!!!
Posted 04/02/2013 09:48 AM
CamilleBalla:
Exquisite! I love "dragging her hem of wildflowers"; and yes, almost ready to throw off our faithful sweaters. Thank you!
Posted 04/02/2013 09:35 AM
Larry Schug:
Exquisite!
Posted 04/02/2013 09:10 AM
erinsnana:
I love this!
Posted 04/02/2013 08:14 AM
wordsmith:
Thank you from Wisconsin!
Posted 04/02/2013 07:58 AM
paradea:
Ahhhhhh!
Posted 04/02/2013 07:56 AM
mimi:
o yes, perfect poem--she is one of my favorite poets
Posted 04/02/2013 07:49 AM
dotief@comcast.net:
Wonderful!
Posted 04/02/2013 07:43 AM
Dorcas:
Lovely poem. I like the format. Poetry on the page.
Posted 04/02/2013 07:28 AM
Katrina:
unexpectedly inevitable - thank you!
Posted 04/02/2013 04:50 AM
Eiken:
Loved this, it has been so cold here and continues to be so cold.
Posted 04/02/2013 04:46 AM
MaryLeeHahn:
I'm still tapping my foot, waiting for her to get here!
Posted 04/02/2013 04:24 AM
r1manchester:
just nice, nice!
Posted 04/02/2013 04:10 AM