Under the sink: mandarin peels; the pulp of Cylindra beets; carrots.
I take the pail to the compost pile every day.
I lift the black plastic sheet that keeps out the rain.
The cuneiform of worms is blissed in heat.
The year's first cut grass glistens, steams.
This is my composting collage.
Once I lost a gold bracelet there.
Found it in the spring's first turning.
I remember the machete shredded stems.
I remember the stale ends of bread.
I remember the striations of my day.
© by Wendy Morton.
Used with the author's permission.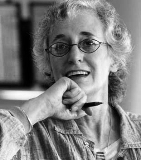 Wendy Morton believes that poetry is the shortest distance between hearts. She has five books of poetry, a memoir, Six Impossible Things Before Breakfast, in which her adventures as a corporate sponsored poet are revealed, and a set of poetry postcards, in which the above poem is included. (To purchase, click here.) She is the founder of Canada's Random Acts of Poetry project, and was the recipient of the 2010 Spirit Bear Award and the Golden Beret Award. Wendy lives in Sooke, British Columbia, where she has spent 30 years as an insurance investigator. Learn more about her here.
sbraley:
Thanks for this inspiring poem, Wendy -- what an eloquent reminder that we are of the earth.
Posted 04/16/2013 03:57 PM
gisela2:
Cylindra beets, blissed in heat I lost a gold bracelet memory pile I guess spring is really here! thanks for a beautiful poem wendy. Gisela
Posted 04/16/2013 11:59 AM
Reganz:
Wendy has been known to pee on her compost pile. And there's lots of scientific evidence to back up the benefits of uric acid as fertilizer. I believe there's evidence that Wendy's poems fertilize our imaginations and feed our souls.
Posted 04/13/2013 08:55 PM
sstenson:
Glorious. I have been to Wendy's garden through this poem!
Posted 04/13/2013 07:46 PM
David Fraser:
Wonderful poem, Wendy. Great to see you last night. I will never eat eels again. Don't want to be sunk.
Posted 04/13/2013 12:05 PM
arleen pare:
I've said it before; I'll say it again: Wendy loves life! this is a wonderful praise poem to life in all its loveliness, liveliness.
Posted 04/13/2013 11:54 AM
erinsnana:
love this! I just ordered your postcards...
Posted 04/13/2013 11:23 AM
Tyler Gabrysh:
Such airy and profound language Wendy utilizes! Never an unsatisfying word!
Posted 04/13/2013 11:08 AM
trailpny:
That's just lovely.
Posted 04/13/2013 10:54 AM
Ross Kightly:
A method of creating a sensation of virtue: almost nothing wasted, as much as possible returned to the process. Splendid poem, Wendy.
Posted 04/13/2013 10:40 AM
Glen Sorestad:
Way to go, Wendy!
Posted 04/13/2013 08:29 AM
mimi:
wonderful (as always) poem, Wendy! My compost pile is buried still--under NEW snow from last night!
Posted 04/13/2013 08:22 AM
nscott29@aol.com:
Wonderful poem. I do collage art and was looking for inspiration for an exhibit entitled Trash Menagerie. Thank you. I'm off and running.
Posted 04/13/2013 07:42 AM
Charly:
I relate so strongly to this poem...crisp images and senses.
Posted 04/13/2013 07:41 AM
Janet Leahy:
Eloquent language for this steamy subject, very nice.
Posted 04/13/2013 07:00 AM
MaryLeeHahn:
A "composting collage"...perfect!
Posted 04/13/2013 04:29 AM