The Farmer's Market flowers
of a certain age sit on my kitchen counter
waiting for disposal, their fresher
sisters already placed in vases
around the house.  Red gerbera daisies
bending at the neck, yellow and purple
tulips open and blowsy as roses.
(Think Melina Mercouri still sexy to the end.)
I can't bear to throw them out
though their stems are slimy
and the water stinks of ammonia.
They have a languorous grace
leaning over the lip of the vase
as if standing straight were too much
trouble.  (Think hookers in a humid city.)
But, perhaps they're more like the women
I saw last week lunching at the food court
in the mall, wearing gauzy purple
dresses, flowing pants and tunics,
gray heads under floppy red hats,
laughing and happy as if celebrating 
the end of fashion, the too tight
girdle of good taste.
From Traveler in Paradise: New and Selected Poems (PEARL Editions, 2004).
Used with the author's permission.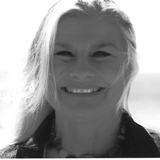 Donna Hilbert writes and teaches private workshops from her home in Long Beach, California. Her work is widely published in multiple languages and she is featured in the documentary, "Grief Becomes Me: A Love Story." Learn more about Donna at www.donnahilbert.com.
.
Katrina:
I have a similar relationship to withering roses as they lose individual petals.
Posted 04/26/2013 07:13 AM
Dorcas:
I knew a member of the Red Hats. Thanks.
Posted 04/25/2013 11:50 AM
marenomitchell:
Thanks!
Posted 04/25/2013 11:30 AM
KevinArnold:
I've enjoyed lunch next to tables of these red-hat women in their happy splendor. Good poem.
Posted 04/25/2013 10:27 AM
rtaylor947@aol.com:
Great imagery, sensual, droll, and I loved the ending.
Posted 04/25/2013 08:40 AM
mimi:
o happy poem! love it, thanks Donna..
Posted 04/25/2013 07:29 AM
erinsnana:
I love this colorful poem!!
Posted 04/25/2013 06:28 AM
MaryLeeHahn:
Love the parenthetical comments!!
Posted 04/25/2013 05:27 AM