Think music.
Think keyboards.
Think Mozart, Pete Johnson,
nimble fingers on satin smooth keys,
sounds of Cesar Franck roaring
through open church doors.

Think ornaments
in the dark sarcophagus
of an Egyptian princess,
black bangles on bronze arms
of Bantu women.

Think carvings of black idols,
pachyderms and primates,
warm to the touch
from sucking up the sun.

Think Kachin jungle,
where nocturnal tigers prowl,
where black hearts leap
at the thought of you.
†
A variation of this poem appears in For Love of Trees (Mina-Helwig, 2009).
Used with the authorís permission.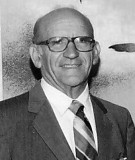 Edward Hujsak (1925 - 2018) was born in New Hampshire to a Polish farming family. A chemical engineering graduate of the University of New Hampshire, Ed worked on propulsion systems at General Dynamics during development of the Atlas and Centaur rockets. He was propulsion engineer on John Glenn's famous orbital flight and served as chief of preliminary design at General Dynamics Astronautics Division for ten years, accumulating more than a dozen patents in the aerospace field. In addition to his numerous engineering achievements, Ed was a writer, artist, sculptor, and builder of furniture and musical instruments. In his spare time, Ed made more than 2000 wooden birds, dogs, and race cars for the San Diego Fine Woodworkers Association, which distributes them to sick and needy children.
ed werstein:
I like all of Hujsak's poetry, and thi spiece is no exception. Juxtaposing Mozart and Pete Johnson....brilliant.
Posted 04/26/2013 08:46 AM
dotief@comcast.net:
Love it!
Posted 04/26/2013 07:54 AM
MaryLeeHahn:
I like the repetition of "think." It slowed me down. I did what it told me to do!
Posted 04/26/2013 04:38 AM