I come from this woman
whose love and devotion to family
is surpassed by none that I know.
Although I am one of many,
her broad smile when she saw me
made me feel like I was the special one.
Careful in her thought,
she did not make decisions quickly or lightly.
But, once decided, she said what needed to be said
and did what needed to be done
even when all did not agree.
I admired this woman
and I am proud to know that her blood
runs through my veins. So I, too,
will strive to think things through
before I decide and then follow my convictions

to say what must be said
and do what must be done.
For I can think of no greater honor
than to have someone say that
I was a little like her.
© by Jose E. Ferrer.
Used with the author's permission.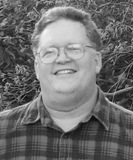 Jose Ferrer is a systems analyst and e-commerce specialist who spent many years working for Fortune 100 companies before launching his own software development company. A creative thinker who enjoys problem solving and exploring new technologies that might make the world a better place, Jose is a dedicated gardener and looks forward to a time when he can spend his days growing vegetables and keeping company with his flock of chickens. Father of three sons, Jose lives in Greenville, South Carolina, with his wife, Jayne. He never, ever expected to be a poet.
russtowne:
I enjoyed your poem, Jose. It is indeed a beautiful tribute to your mother. "To do what needs to be done" is my definition of a hero. So your mother is a hero to me. Your last 3 lines are especially powerful to me. Russ
Posted 05/12/2013 01:52 PM
Jo:
A beautiful, beautiful tribute, Jose. Lovely to read on Mother's Day.
Posted 05/12/2013 10:44 AM
Janet Leahy:
A lovely tribute, the ending lines so perfect.
Posted 05/12/2013 10:41 AM
Donna Pflueger:
What a loving tribute to your mother. To be able to express your feelings can only mean you, too, have the strength of her love running through your veins. Thank you for sharing your poem and Jayne, thanks for sharing it with the rest of us.
Posted 05/12/2013 09:01 AM
erinsnana:
How sweet! Talent obviously runs in your family!
Posted 05/12/2013 08:10 AM
mimi:
a tender and lovely tribute...
Posted 05/12/2013 07:54 AM
MaryLeeHahn:
Maybe Jayne is the master gardener at work here -- planting the seed of poetry!
Posted 05/12/2013 06:52 AM
JanetruthMartin:
Jose, this mothers eyes are filled with tears. The ending is so touching and perfect. Beautiful tribute!. Thank-you Jayne, for sharing his work!
Posted 05/12/2013 06:43 AM