On the forest path
Where we walk
You are perched
On my aging shoulders
We giggle at the birds'
Silly songs
Your hands hold tight
To my thin gray hair
I cannot help
But think ahead
To your prom
So many years
Yet to pass before
You will dress
As a fair maiden
To be taken
Away by a knight
In his father's car
And I, if there is grace,
Will be here
To watch you go
To worry, until
I see you again
And you tell me
Almost everything
There is to tell
About the night
From 
Driving Home
 (Aldrich Press. 2013).
Used here with the author's permission.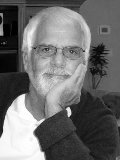 Jim Gustafson says, "Though I am old and 'wear the bottom of my trousers rolled,' I am a student in the MFA program at the University of Tampa." After a career as a clergyman and, later, a radio station manager, Jim is now focused on writing. His first book of poems, Driving Home, was released by Aldrich Press in January, 2013. Jim lives in Fort Myers, Florida; learn more about him at www.jimgustafson.com.
lumbinabasigosain:
beautiful short & sweet poem.
Posted 05/21/2013 01:59 AM
blueskies:
Delightful walk with the poem & poet. Thank you for the beauty expressed within these words...
Posted 05/20/2013 08:20 PM
CamilleBalla:
Very nice...I especially like 'knight in his father's car' and 'I, if there is grace, will be here...
Posted 05/20/2013 12:51 PM
japatha:
This one speaks to me...the place I currently dwell in.
Posted 05/20/2013 09:42 AM
paradea:
Great poem.
Posted 05/20/2013 09:11 AM
Wilda Morris:
Ah, yes. How true!
Posted 05/20/2013 09:01 AM
peninsulapoet:
Perfect.
Posted 05/20/2013 08:54 AM
mimi:
"almost" everything...some things best not to know! lovely and true poem.. Sharon Auberle
Posted 05/20/2013 08:45 AM
vscholtz:
"And I, if there is grace, Will be here" Just what I say to myself about my grandson. Thanks so much for a beautiful start to my day.
Posted 05/20/2013 07:39 AM
jeanie:
I love the line "And I, if there is grace,"
Posted 05/20/2013 06:55 AM
erinsnana:
a very sweet poem!
Posted 05/20/2013 06:54 AM