back east, wild bushes grow
© by Tere Sievers.


Used with the author's permission.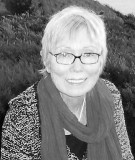 Tere Sievers, originally a Jersey girl, lives in Long Beach, California, and works as a psychotherapist. Eating tomatoes from her garden is one of her great delights, as well as visiting her vagabond sister in various tropical climes. For the enjoyment of the children in her life, she has published a book of children's poems, Blueberry Pancakes and Monkey Pajamas. Three of Tere's poems are included in the Green Anthology, just out from Silver Birch Press.
lumbinabasigosain:
"they lasted longer than fences" i enjoyed reading it
Posted 05/23/2013 12:23 AM
Dorcas:
An earthly image of binding with the good earth. Thank you.
Posted 05/22/2013 07:18 AM
Jo:
Thank you for this lovely poem.
Posted 05/21/2013 10:14 AM
peninsulapoet:
Beautiful!
Posted 05/21/2013 09:23 AM
JanetruthMartin:
This is one of those 'WOW, I wish I'd written this' poems. 'I am miles from lilacs'. what a line!
Posted 05/21/2013 07:04 AM
Eiken:
Lovely :)
Posted 05/21/2013 04:18 AM