Remember anyone can dream and nothing's bad as it may seem…
~ "Pretend" lyrics by Douglas, Parman & Lavere
Back then all we had to do
was say let's pretend…
and ballerinas and pirates
would spring to life on our stage
there was never a doubt--
we could be anything
on the painted Italian plate
but then lunch is finished
castles fade, sky turns gray
and what next asks my rogue heart
© by Sharon Auberle.

Used with the author's permission.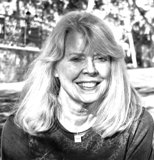 Sharon Auberle is a poet and photographer. She loves water and winter, the subjects of many of her poems, and is happy to be back in the land of her roots—the Midwest—after nearly twenty years in the drought-stricken Southwest. Sharon is the author of three poetry books, two of which also contain her photos, as well as several collaborations of her photos with other poets. She and Ralph Murre are happy to announce the release of their new combined venture into poetry: Wind Where Music Was. When not writing or out in the woods, Sharon can be found on Facebook or hanging poems and pictures at her website, Mimi's Golightly Café. She freely admits that both take time away from her poetry. Learn more about Sharon here.
Joe Sottile:
Bravo! Yes, pretend...
Posted 05/22/2013 10:54 PM
mimi:
thanks everyone, for all your good and kind words... Sharon Auberle
Posted 05/22/2013 09:43 PM
rksanders@charter.net:
Our phrase, Sharon, was "pretend like..." and oh, the places that could take us to. And still does. Thanks for the reminder.
Posted 05/22/2013 07:19 PM
Janet Leahy:
Just a bit of peace in the old walled town, lovely poem, thanks Sharon.
Posted 05/22/2013 12:07 PM
Ralph Murre:
Excellent, as always. And maybe, just this once, the snow won't begin to drift. It's been near two weeks, now.
Posted 05/22/2013 10:57 AM
peninsulapoet:
I am a Sharon Auberle fan. Another lovely poem. Donna Hilbert.
Posted 05/22/2013 10:03 AM
Jo:
Your rogue heart--a conjurer that makes magic happen. It's raining here today as I munch on grapes and sit on that sunny wall. I could stay here for hours. Fine poem Sharon.
Posted 05/22/2013 09:32 AM
wendy morton:
I'm with Sharon. What's next is always a surprise, even if it isn't Tuscany. Lovely. The world is our imagination.
Posted 05/22/2013 09:26 AM
ed werstein:
beautiful, Sharon. I think I'll go back to Santiago for lunch.
Posted 05/22/2013 08:03 AM
Wilda Morris:
Well done, Sharon. I think I will let my rogue heart take me to Venice or London or San Miguel de Allende for a while this morning!
Posted 05/22/2013 06:50 AM
jeanie:
love the rogue heart, sharon! very nice poem.
Posted 05/22/2013 06:44 AM
TheSilverOne:
As a person who never outgrew a wild imagination, I relate to this beautiful poem. ~Doris
Posted 05/22/2013 06:36 AM
mjorlock:
I love the way this poem works its way to its final, almost jarring, image--which is, nevertheless, as serene as the Italian landscape the speaker imagined. This is an exceptionally well-crafted poem: simple but profound.
Posted 05/22/2013 05:55 AM