An awful tempest mashed the air,
The clouds were gaunt and few;
A black, as of a spectre's cloak,
Hid heaven and earth from view.
The creatures chuckled on the roofs
And whistled in the air,
And shook their fists and gnashed their teeth,
And swung their frenzied hair.
The morning lit, the birds arose;
The monster's faded eyes
Turned slowly to his native coast,
And peace was Paradise!
This poem is in the public domain.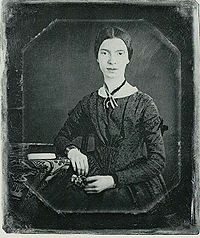 Emily Dickinson (1830 – 1886) is considered a major American poet, though she was not accorded this honor until well after her death, when her younger sister discovered and began to share the enormous body of work that Emily left behind. A recluse who almost always wore white, Emily was born to a prominent Massachusetts family and spent the bulk of her life inside her home in Amherst. Only seven of her poems were published during her lifetime, and virtually none were published as originally written until the mid 1950s. (Emily's odd punctuation, capitalization, and formatting did not meet with standard publishing "approval" for earlier editions.) There is a whimsical nature to many of her poems, although the subject of death was the most frequent recurring theme.
Dorcas:
Perhaps we must expand our consciousness to see where Emily is coming from. She sees beyond us in her solitude. We need not penetrate her mind, but our own.
Posted 06/07/2013 11:07 AM
dotief@comcast.net:
I experienced this poems sensations yesterday and this morning. Two waterspouts hit Mayport and Fernandina, both just north of Jacksonville. At my house the heavens were indeed "hid" by a "black, as of a spectre's cloak," and this morning as the sun filters through the magnolia and the palms, I feel the "peace" of "Paradise."
Posted 06/07/2013 07:58 AM