He clasps the crag with crooked hands;
Close to the sun in lonely lands,
Ringed with the azure world, he stands.
The wrinkled sea beneath him crawls;
He watches from his mountain walls,
And like a thunderbolt he falls.
This poem is in the public domain.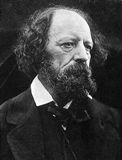 Alfred Tennyson (1809 - 1892) is one of the world's most beloved and enduring poets. Born in a small English village to comfortable, devoutly religious parents (his father was a clergyman, his mother the daughter of a clergyman), Alfred was one of twelve children. He enjoyed an idyllic childhood, though later years brought family issues, and his father's death caused Alfred to have to leave Cambridge without completing his degree. Drawn to poetry from an early age, Alfred's first book of poetry was one he published with his brother when he was still a teenager. He published a collection of his own work shortly thereafter, to very enthusiastic reviews. But three years later, a second book was heavily criticized and Alfred was devastated. Though he continued to write, it was nearly ten years before he published another book. Ultimately, he became England's longest-serving poet laureate, spending more than forty years in that position and producing fine work until he was in his eighties.
transitions:
w-o-w judy
Posted 06/07/2013 10:30 AM
Donna Pflueger:
What an intimate and respectful observation - powerful words.
Posted 06/06/2013 02:04 PM
TheSilverOne:
Wpw..This poem could have been written yesterday. Beautiful images.
Posted 06/06/2013 07:45 AM
Janet Leahy:
Magnificent bird, "like a thunderbolt" indeed. And the "wrinkled sea," thanks for this beautiful poem.
Posted 06/06/2013 06:40 AM