I like to look at the blossomy track of the moon upon the sea,
But it isn't half so fine a sight as Main Street used to be
When it all was covered over with a couple of feet of snow,
And over the crisp and radiant road the ringing sleighs would go.

Now, Main Street bordered with autumn leaves, it was a pleasant thing,
And its gutters were gay with dandelions early in the Spring;
I like to think of it white with frost or dusty in the heat,
Because I think it is humaner than any other street.

A city street that is busy and wide is ground by a thousand wheels,
And a burden of traffic on its breast is all it ever feels:
It is dully conscious of weight and speed and of work that never ends,
But it cannot be human like Main Street, and recognize its friends.

There were only about a hundred teams on Main Street in a day,
And twenty or thirty people, I guess, and some children out to play.
And there wasn't a wagon or buggy, or a man or a girl or a boy
That Main Street didn't remember, and somehow seem to enjoy.

The truck and the motor and trolley car and the elevated train
They make the weary city street reverberate with pain:
But there is yet an echo left deep down within my heart
Of the music the Main Street cobblestones made beneath a butcher's cart.

God be thanked for the Milky Way that runs across the sky,
That's the path that my feet would tread whenever I have to die.
Some folks call it a Silver Sword, and some a Pearly Crown,
But the only thing I think it is, is Main Street, Heaventown.
This poem is in the public domain.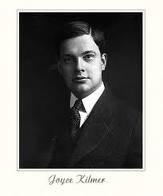 Alfred Joyce Kilmer (1886 – 1918) is best known for his poem, "Trees," but he actually produced quite a large volume of work. Had his life not ended so tragically early, many believe he would have developed into one of America's great poets. Joyce married young and fathered five children even as he was establishing himself as a teacher, writer, and lecturer. While coping with the illness of one of their children, Joyce and his wife converted from the Episcopal faith to Catholocism and he ultimately became the leading Catholic poet of his time. When World War I broke out, Joyce enlisted and had contracted to write a book about his war experiences. Unfortunately, he was killed on a French battlefield before he ever even began the book; he was only 31 when he died. Interesting side note: Joyce's father worked for Johnson & Johnson and is credited with inventing that company's famous baby powder.
Dorcas:
Very lovely. I guess that is The Bronx to me.
Posted 06/06/2013 05:50 PM
Larry Schug:
I never drive freeways when I can take a highway that turns into the main street of some little town, especially in the Midwest and Great Plains. "humaner"??
Posted 06/05/2013 07:25 AM
JanetruthMartin:
This poem made me cry! another poet gone too soon. The main streets in Canada are the same likely because of the convenience of shopping malls. Make me think of Alan Jackson's song Little Man.
Posted 06/05/2013 07:10 AM