but the Queen Anne's Lace
strawberries, girls . . ."
pink glass . . . just about
trusted to an eight-year-old,
to sprinkle white, rounded
clinking as we hauled them,
"Mamma, will you and Daddy
And if the answer had to wait,
or the whipped cream beaters
crickets on our window sills,
© by Gretchen Friel.
Used with the author's permission.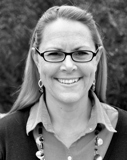 A high school English teacher, Gretchen Friel has a Masters Degree in Secondary English from National-Louis University, and enjoys teaching creative writing as well as sponsoring the quilt club. She is passionate about her family, church, writing, quilting, playing soccer, creating scrapbooks, and trying out new recipes with something from the backyard harvest. Her husband, Shawn, is a gardener, Harley rider, and wood craftsman. A breast cancer survivor, Gretchen recently moved "getting published" up on her bucket list. Now that her first poetry book, Coffee Break for Quilters, is complete, she is working on her first young adult novel.
ChrisdR:
Ahhh, what beautiful words to evoke sweet memories of learning cooking skills from Grandma and Mom, side be side. Summertime was the best with the garden fresh ingredients. Thanks for the lovely word picture memories Gretchen!
Posted 06/20/2013 11:34 AM
erinsnana:
I love this! I spent many summer weeks at the my aunt's house...in the country. She had ten children and her kitchen was always noisy! When I slept out on the screened porch, I could hear crickets. I never heard them at home!
Posted 06/20/2013 11:10 AM
peninsulapoet:
Beautiful. What summer should be.
Posted 06/20/2013 10:14 AM
TheSilverOne:
What wonderful memories, reminding us of our own mothers and kitchens of the past.
Posted 06/20/2013 07:10 AM
paula:
Just lovely!
Posted 06/20/2013 06:53 AM