Whoever owned this '54 Chevy sedan
must not have been a mechanic
or a conjurer who could raise machinery
from the dead.  Instead, too cheap
to have it towed, the car rests
Seed tufts poke through the grill
like steam issuing from an overheated radiator.
Plum trees blossoming form clouds of exhaust,
while a blackberry vine, a policeman, taps
under the bright headlight of the moon,
crickets hum a well tuned engine.
The Chevrolet appears to be speeding through
the soft blue landscape into tomorrow—
This poem first appeared in Pedestal Magazine.
Used here with the author's permission.
Mark Thalman lives in Forest Grove, Oregon, where he has taught 7th grade English for thirty years.  His poetry has been widely published in small presses, college reviews, anthologies, and e-zines for the last three decades. His book, Catching the Limit, was published by Bedbug Press - Fairweather Books as part of their Northwest Poetry Series. Mark has served as a Poet-in-the-Schools for the Oregon Arts Commission, Assistant Poetry Editor for theNorthwest Review, and board member of the Portland Poetry Festival. He is also an artist who enjoys painting wildlife scenes with acrylics. To learn more about Mark, visit www.markthalman.com. To purchase Catching the Limit, click on the book cover and contact Mark via his email address.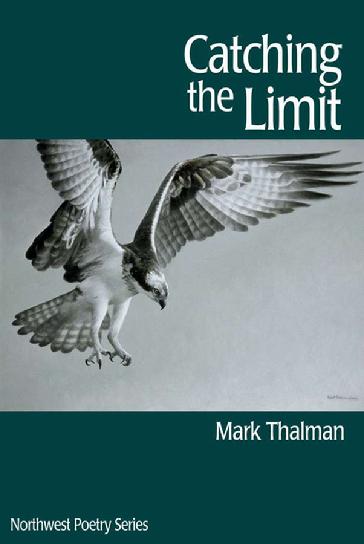 Buckner14:
I smiled all the way through this one!
Posted 06/22/2013 06:43 PM
Jo:
What an eye for detail. Traffic of weeds, the blackberry vine tapping at the window. The last line too stay with me--the Chevrolet appears to be speeding through the soft blue landscape... Thanks Mark.
Posted 06/22/2013 04:52 PM
Ginny C.:
Great poem with vivid imagery! Mark, you helped that old wreck come back to life by describing it with such loving attention to details.
Posted 06/22/2013 10:14 AM
tiddles:
Love the blackberry vine tapping at the window. Great image. Great poem.
Posted 06/22/2013 08:09 AM
pwax:
I don't know whether it's speeding or idling, but I can see it perfectly! Good poem!
Posted 06/22/2013 08:07 AM
Donna Pflueger:
From beginning to end, you drove me along in that car. I agree with the other comments, tight and mobile! Thanks, Mark. I really enjoyed reading your poem.
Posted 06/22/2013 08:01 AM
gailcomorat:
Terrific phrases—"a traffic of weeds," "bright headlight of the moon." Very tight, and lots of fun to read!
Posted 06/22/2013 07:25 AM
TheSilverOne:
What insight! This poem was a joy to read.
Posted 06/22/2013 07:00 AM
dotief@comcast.net:
I love it!
Posted 06/22/2013 06:31 AM
r1manchester:
great poem! best describtion yet of a junk car...perfect!
Posted 06/22/2013 04:08 AM