I

The Moon is like a ping-pong ball;
I lean against the orchard wall,
And see it soar into the void,
A silky sphere of celluloid.

Then fairy fire enkindles it,
Like gossamer by taper lit,
Until it glows above the trees
As mellow as a Cheddar cheese.

And up and up I watch it press
Into appalling loneliness;
Like realms of ice without a stain,
A corpse Moon come to life again.

Ruthless it drowns a sturdy star
That seeks its regal way to bar;
Seeming with conscious power to grow,
And sweeter, purer, gladder glow.

Dreaming serenely up the sky
Until exultantly on high,
It shimmers with superb delight,
The silver navel of the night.


This poem is in the public domain.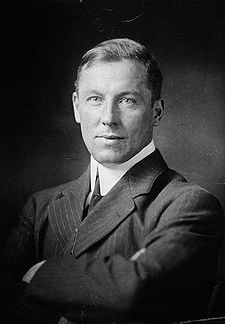 Robert Service (1874 - 1958) was a Scottish poet who became smitten with the Yukon Territory when he moved to Canada at the age of 21. Though he longed to be a trail-blazing cowboy, and many thought he indeed lived the life of which he wrote, Robert was, in fact, a bank clerk. After wandering North America for several years, working at odd jobs and various bank branches, he finally settled down in Dawson City, Yukon, some time after the Gold Rush. Robert began writing poems about his stark and beautiful surroundings, and about the legends and lifestyle associated with that part of the world. When his collection of poetry, The Spell of the Yukon and Other Verses, was published in 1907, it was an immediate success, made Robert wealthy beyond his greatest expectations, and earned him the nickname "The Bard of the Yukon." Robert alternated living in North America and Europe for the remainder of his life--even spending a few years in Hollywood; the cabin in the Klondike where he made his home is now a Canadian national park site.
Katrina:
I love the last line.
Posted 06/23/2013 05:42 AM