The taproots grow twisted, brittle and deep,
the stalks, hollow as bird bones.
Grandmother's edible, bitter greens.
After the bloom—feathery heads, perfectly 
proportioned—the seeds strut from its crown,
shuttle-cocked to better ride the breeze.
Clustered tufts bend and fly scattershot 
toward the wide and ready fields,
each gesture nonchalant and fruitful. 
Like teams of white-skirted angels hell-bent 
on a mission, they dance and dust the air 
with helter-skelter knots of themselves. 
All summer, the dutiful wind will purse her lips
and blow the little heads bald.
© by Gail Braune Comorat.
Used with the author's permission.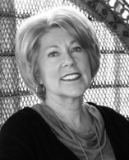 Gail Braune Comorat is a founding member of the Rehoboth Beach Writers' Guild and has had poems published in Adanna, Grist, Gargoyle, and numerous anthologies. She received a 2011 fellowship from the Delaware Division of the Arts as an emerging writer in poetry, and was the winner of the 2012 Artsmith Literary Award for her poem, "Summer of Ladybugs." Gail lives in Lewes, Delaware. More information about her poetry can be found on the Rehoboth Beach Writers' Guild site, under "Our Writers."
Sharon Urdahl:
Another Wow!...Expressive and playful...like the wind blowing the seeds...Thank you !
Posted 06/25/2013 10:23 PM
gailcomorat:
Thank you, everyone! Happy to be a part of this fine site!
Posted 06/25/2013 05:18 PM
maribeth:
Wow! What a vivid, active, poem--I can see it all, feel the wind....
Posted 06/25/2013 04:48 PM
Jo:
I like that line too Ethan, and Gail, a sonnet now. Really like what you did with this poem. Great to see you.
Posted 06/25/2013 10:39 AM
Katrina:
Thank you, Gail! I had never thought of dandelion 'shuttlecocks'. Now I cannot see how the idea escaped me. Dandelions are the one plant I weed out of my garden, so I rarely see this spectacular moulting - Paradise Lost.
Posted 06/25/2013 10:15 AM
KevinArnold:
She had me from the first line with all that marvelous music. And never disappointed after, all the way to 'blow the little heads bald.'
Posted 06/25/2013 07:59 AM
Larry Schug:
Excellent poem; it appeals to me on an artistic level as well as on a more personal level. Each line is its own poem!
Posted 06/25/2013 07:54 AM
MaryLeeHahn:
Love that "dutiful wind!"
Posted 06/25/2013 07:13 AM
ejoella:
So elegant and well-crafted. I love the "white-skirted angels" line and the way it begins. Great sound!
Posted 06/25/2013 06:59 AM
jimgustafson:
so good, nicely compressed, every word counts. Not a weed in the garden!
Posted 06/25/2013 06:46 AM