O, blonde headed, wrong headed
we greet, meet eachother.
I remember a dinner in Denmark.
A vegan friend who bought
for "her American friends."
the grape arbor above us,
and began to lick or nibble
or do what bees do to feed
themselves.  "Do you mind?"
our hostess asked as we waited,
watched.  "They eat so little."
We didn't mind then and now,
years later, I say Sir Worm,
"You ate so little."


© by
Ruth Moose
.
Used with the author's permission.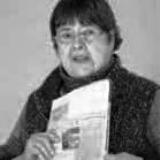 Ruth Moose was on the Creative Writing faculty at the University of North Carolina-Chapel Hill for 15 years. Author of three collections of short stories and six collections of poetry, her work has appeared in many U.S. publications and in Holland, South Africa, England and Denmark. Ruth was awarded a MacDowell Fellowship and, in 2009, received the prestigious Chapman Fellowship for Teaching. Most recently, her debut novel, Doing it at the Dixie Dew, was awarded a $10,000 Malice Domestic Prize; it will be published in 2014 by St. Martin's Press. Ruth lives in Chapel Hill, NC.
nscott29@aol.com:
This was my smile for the day. Thank you, Ruth.
Posted 07/11/2013 04:59 PM
nancilee:
I love the nature lover in this poem. It certainly presents in a lovely way a very different point of view.
Posted 07/11/2013 02:06 PM
marenomitchell:
Ruth, what a yummy worm poem! A belated congratulations to you for the Malice Domestic Prize for "Doing It at the Dixie Dew"! You must be a very happy camper!
Posted 07/11/2013 02:03 PM
transitions:
I'll never look at a worm the same way again; enjoyed your poem very much. Judy
Posted 07/11/2013 11:47 AM
peninsulapoet:
Delicious poem.
Posted 07/11/2013 09:48 AM
KevinArnold:
The Buddhist tradition is irreproachable. All living things.
Posted 07/11/2013 09:25 AM
Wilda Morris:
What a great attitude! Thanks for sharing this poem.
Posted 07/11/2013 08:03 AM
Larry Schug:
Exquisite! Bravo!
Posted 07/11/2013 07:33 AM