That was the year that daisies
all decided to perform flawlessly,
to help humanity along its faltering way.
Every one, its petals plucked
She loves me, she loves me not,
would tell you that she loves you.
He loves me, he loves me not,
would tell you that he loves you.
It was her favorite flower, you know.
Garlands framed the altar where
we said our last good byes.
lifted from the roadside,
has graced my table for a week.
Drawn into its lonely self at night,
it flares to fullness at daybreak
atop a dime store, Ming inspired,
thin-stem porcelain vase.
I pluck its petals, one by one.
She loves me, she loves me not.
She loves me, she loves me not.
..............She loves me.

© by†Edward Hujsak.
Used with the authorís permission.
†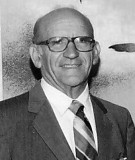 Edward Hujsak (1925 - 2018) was born in New Hampshire to a Polish farming family. A chemical engineering graduate of the University of New Hampshire, Ed worked on propulsion systems at General Dynamics during development of the Atlas and Centaur rockets. He was propulsion engineer on John Glenn's famous orbital flight and served as chief of preliminary design at General Dynamics Astronautics Division for ten years, accumulating more than a dozen patents in the aerospace field. In addition to his numerous engineering achievements, Ed was a writer, artist, sculptor, and builder of furniture and musical instruments. In his spare time, Ed made more than 2000 wooden birds, dogs, and race cars for the San Diego Fine Woodworkers Association, which distributes them to sick and needy children.
paradea:
Beautiful!!!
Posted 07/19/2013 09:32 PM
transitions:
Agree with 'mimi'; thanks for sharing this lovely poem. Judy
Posted 07/19/2013 10:47 AM
Larry Schug:
This poem is a true work of art, taking the reader beyond the words and beyond him/herself.
Posted 07/19/2013 08:02 AM
Havenwood:
A poignant and well penned tribute.
Posted 07/19/2013 07:48 AM
TheSilverOne:
beautiful, loving poem.
Posted 07/19/2013 07:36 AM
mimi:
loving, tender and sad...
Posted 07/19/2013 07:12 AM
r1manchester:
Ed....lots of power and feeling in this, nice tribute.
Posted 07/19/2013 04:42 AM
Katrina:
Congratulations, Edward, on your delicate poem.
Posted 07/19/2013 04:38 AM