On the eve of my thirty-ninth birthday,
wheeling the TV cart 
into the living room
of my center hall colonial
with my wife and in-laws
and my eldest daughter Randy
on her grandfather's lap,
(four year old Allegra 
asleep in her room),
five pairs of human eyes
drinking in the incredible —
men on the moon,
greatest scientific feat of all time,
and I still struggling 
with the rabbit ears antenna
to make the image clearer;
 
Armstrong's carefully prepared
"one step, one leap" metaphor 
milking in best Madison Avenue style
the great moment for what 
it would always be worth;
 
my father-in-law and I 
engaged in speculation 
about how Jewish astronauts
could observe Rosh Hodesh,
or say the prayer to the new moon 
while standing on it,
my daughter interrupting, 
"Grandpa, I know the prayer by heart." 
 
then all of us quiet for a long time —
 
my last hope that it might be a hoax gone,
I felt bereft — beauty and belief 
and fancies once owned proudly 
now replaced by a lifeless sphere.
 
Next day, my birthday, 
having been declared Moon Day,
the New York Times
printed its special edition
with several poems by poets
including Archibald Macleish, 
some acclaiming the achievement,
others lamenting the loss,
a feast for poets 
but my muse silent, lifeless. 
 
Since then, 
the moon reminds me
from time to time
that on that day 
a member of my species
trampled on her face,
violating with one irreverent step
a million years of magic
and myth and wondrous gazing —
 
brother Apollo's module chariot
pulling from afar
and away from us
the last ebb of silver dream. 
© by Joseph Pacheco.
Used with the author's permission.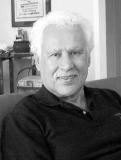 Joseph Pacheco is a retired New York City school superintendent living on Florida's Sanibel Island. A national prize-winning poet at age eighteen, he wrote no poetry for the next fifty years, but the joys of retirement life re-awakened his muse. Joseph is now the author of 3 books, including Sanibel Joe's Songbook, and his poetry has been featured on National Public Radio?s Morning Edition, Latino USA, and WGCU. He's also performed at New York City?s famous Bowery Poets and Cornelia Street Cafés. Joe is past president of the Southwest Florida Hispanic Chamber of Commerce, a member of WGCU's Public Media Advisory Board, writes a column for the Sanibel Islander, and his poetry has appeared in English and Spanish in the News-Press and its Spanish language weekly, Gaceta Tropical. He is co-founder of ArtPoems and, in 2008, received the Literary Artist of the Year award from Alliance for the Arts.
jrobilotta:
Well done, Joe. I watched the landing and Armstrong's leap in the basement of my future wife's family home. I was training outside of Philadelphia and came home on weekend's to be with Suzanne. Looking forward to seeing you in Ft. Myers and, hopefully, Labor Day for your reading. John
Posted 07/20/2015 05:54 PM
Dobie Pasco:
Really nice poem, Joe. I was in Traverse City, Michigan, having just come off Grand Traverse Bay, where, that day, we survived a violent storm, so the landing was even more poignant. The summer TV series, The Astronaut Wives Club, on ABC on Thursdays, does a great job or re-creating the era and the ambiance of the times.
Posted 07/20/2015 02:28 PM
Nposey27:
I love the ambivalence. Read the first chapter of Tony Earley's Somehow Form a Family.
Posted 07/20/2013 09:15 AM
paradea:
Great poem!! I always seem to look up at a 3/4 moon and always see the same all-knowing half-smile and I do what Armstrong's family asked when he died, "give a wink and a nod to the man-in-the-moon.
Posted 07/20/2013 07:59 AM
Sylvia G. Little:
What a lovely poem! A momentous day so many of us remember well! I never thought of that first Step on the Moon as a violation, though Of course it was.... But somehow, for me, that fascinating, glorious and seemingly changing orb has never lost its glory!
Posted 07/20/2013 05:11 AM