in Echo Canyon, New Mexico


Deep in the canyon, I begin to sing Amazing Grace.
Far above us, white-throated swifts dart in and out
of crevices in this curved embrace of red rock
holding the cerulean sky.

That was my mother's favorite song.
Please sing it again, another tourist asks,
her eyes filling.

Each phrase shimmers around us, counterpoint
to canyon winds; ancient sediment flows down
the rock-face onto a bed of red dust; the stone
lion crouched on the edge of the highest cliff
lowers his head,
and the dust rises.
© by Penny Harter.
Used with the author's permission.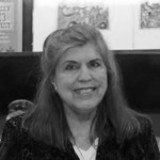 Penny Harter is a poet and teacher whose work appears in many print and online journals and anthologies. She has received fellowships from the NJ State Council on the Arts, the Poetry Society of America, and the Virginia Center for the Creative Arts. She also received the William O. Douglas Nature Writing Award, and was invited to read at the 2010 Geraldine R. Dodge Poetry Festival. After her husband's death in 2008, Penny moved to the South Jersey shore area to be near her daughter and family. She has many collections of poetry in print; her most recent books are a children's alphabestiary, The Beastie Book, and Recycling Starlight, a chapbook of poems reflecting her grief during the eighteen months following her husband's death. With her late husband, William J. Higginson, Penny co-authored The Haiku Handbook. Her prizewinning collection of haibun (poetic prose pieces with haiku integrated into them), One Bowl, was published online last summer by Snapshot Press (England). Learn more about Penny here.
penhart:
Thanks so much, Judy! Yes, I have "found" the poem---or it "found" me---and feel blessed by that. It's a joy to share, and we are all seekers, whether we acknowledge that or not.
Posted 07/25/2013 07:52 PM
transitions:
...and now you've 'found...this inspired and inspiring poem. Thank you for sharing it with us, your fellow seekers. Judy
Posted 07/24/2013 10:02 PM
penhart:
Thank you all so much for your kind comments about my poem! CB, Larry, Wilda, trailpny, and paradea. You warm my heart. And yes, the Southwest red rock area is beyond comparison---so unique! Makes the spirit shine!
Posted 07/24/2013 02:26 PM
CB:
Wonderful poem. Thank you.
Posted 07/24/2013 11:56 AM
Larry Schug:
I love rocks, hiking, swifts, Amazing Grace, my mother and this poem. It's got it all!
Posted 07/24/2013 10:10 AM
Wilda Morris:
Beautiful! "Amazing Grace" was a favorite of my mother and grandmother - so (of course) it is a favorite of mine. And I love the red rock areas and canyons of the SW. You had me from the beginning and kept me in the poem to the end!
Posted 07/24/2013 09:57 AM
trailpny:
Lovely poem.
Posted 07/24/2013 09:35 AM
paradea:
This beautiful poem puts you there, and beyond! Thank you.
Posted 07/24/2013 09:05 AM
penhart:
And thanks, "rtaylor"---I sing "Amazing Grace" often, whenever I feel happy or grateful for life's gifts---even small ones :). Each day is a blessing.
Posted 07/24/2013 08:52 AM
penhart:
Thanks so much, Mimi. . . and thanks to Jayne for posting my poem today!
Posted 07/24/2013 08:50 AM
rtaylor947@aol.com:
Yes, sing it again.
Posted 07/24/2013 08:50 AM
mimi:
New Mexico and your poem--enchanting, thank you...
Posted 07/24/2013 07:03 AM
penhart:
Thanks so much Gretchen, Charly, Phebe, and Katrina. Echo Canyon is in the Georgia O'Keeffe country of Northern NM, and the landscape is absolutely breathtaking. The spiritual beauty of the Canyon needed to be celebrated, so I sang my favorite song. Grace echoed around me, and the tourist's request for me to sing the song again was an extra blessing.
Posted 07/24/2013 06:54 AM
gretchenfriel:
Well done. That song crystallizes memories - a bagpiper played Amazing Grace at my father's funeral. He had died so young at age 57. In that moment, it seemed only the piper was breathing.
Posted 07/24/2013 06:43 AM
Charly:
Beautiful!
Posted 07/24/2013 06:41 AM
phebe.davidson@gmail.com:
Brava!
Posted 07/24/2013 06:04 AM
Katrina:
You are tempting me to be magnetised by this rock-face.
Posted 07/24/2013 04:40 AM