They spin round and round

†


Mane, tails, and plumes, high flying


†


Never tiring
†
© by Sharon L. H. Kelly.
Used with the authorís permission.
†
†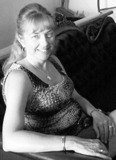 Sharon L. H. Kelly is a freelance writer and poet. She is a member of WritersCafe.org and has published works in online and print publications. A registered nurse, Sharon lives in the Adirondack mountains of New York.
transitions:
Let's be 'brave' and get on that carousel sans toddlers; all of the other adults will envy you! I love carousels; thanks Sharon, for bringing back the memory of many happy rides... Judy
Posted 07/25/2013 03:39 PM
Contents of this web site and all original text and images therein are copyright © by Your Daily Poem. All rights reserved.
As an Amazon Associate I earn from qualifying purchases. Purchasing books through any poet's Amazon links helps to support Your Daily Poem.
The material on this site may not be copied, reproduced, downloaded, distributed, transmitted, stored, altered, adapted,
or otherwise used in any way without the express written permission of the owner.