When the siren shattered the night air
they had to turn off the lights
and shove black paper against
every window that could serve as a target.
†
had become an only child, five brothers
†
Before they left, she polished their shoes,
ironed their uniforms for a quarter each,
then, each hand waved its semi-salute
as the bus disappeared around the corner,
†
floors to scrub, pots to scour, butter to create
from lard and yellow food coloring, gasoline
and sugar rations to collect.
†
Every evening my mother and her mother
would sit on the holey sofa and listen
to the static crackle of a man's voice reporting
†
Wonder whether the tiny, incessant buzzing
or only a mosquito.

†
†
†
© by

†

Sherry Hughes Beasley.




Used with the authorís permission.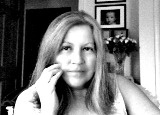 Sherry Hughes Beasley lives in the foothills of the Blue Ridge Mountains in southern Virginia. Her poems have appeared in numerous literary journals and she is the recipient of eleven poetry awards, including the 2009 Edgar Allen Poe Memorial Award. A jeweler, perfumer, soapmaker, and environmental and animal protection activist (says Sherry, "I would rescue every abused and/or neglected animal in the world if I could!"), she is the mother of two grown sons, has one granddaughter, and lives in a house she and her husband designed themselves.

nscott29@aol.com:
As a child, I only knew my home outside of Chicago in those years; still a surprise to learn how universal the American experience was during those years. Fine poem.
Posted 08/20/2013 06:58 AM
phebe.davidson@gmail.com:
This is an extraordinary poem, quiet and earth shattering.
Posted 08/20/2013 06:42 AM
Katrina:
I like the way Sherry shows how global events can permeate domestic activity as life fights death.
Posted 08/20/2013 05:07 AM