Not so much
A slap in the face
As a pat on the rump
As if to say
"Run along now old man,
Your work here is done."

And I did 
Run along, that is,
Walked really 
A minor gesture of defiance 
While surrendering 
To certain physical limitations

I would have liked to have fought back
Hurled the sharp retort 
Given a verbal wound, 
And left a scar to remind
Him of this day
When it becomes his day
And grabs him by the throat
Squeezing the last drop 
Of youth from his dreams

But I no longer fight the wind
Or have the wind to fight
So I went along 
Knowing I no longer belong

There is nothing wrong
With being el—
What he said
But I will not yet speak the word
Or feed it or give it rest

And if it should extend a hand
I will slap it away, 
I will refuse, I will ignore

I will be everything
My mother taught me not to be
I will be rude, 
Discourteous,
Unwelcoming

I will be despicable       and

For that            I shall surely be
Forgiven.


This poem was the winner of the Southwest Florida Poetry Festival in April, 2012.
Used here with the author's permission.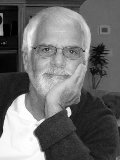 Jim Gustafson says, "Though I am old and 'wear the bottom of my trousers rolled,' I am a student in the MFA program at the University of Tampa." After a career as a clergyman and, later, a radio station manager, Jim is now focused on writing. His first book of poems, Driving Home, was released by Aldrich Press in January, 2013. Jim lives in Fort Myers, Florida; learn more about him at www.jimgustafson.com.
Wilda Morris:
My daughter says I'm now old enough to do what I please - other people let the el- (oops), the people my age get by with whatever they do. I especially like "But I no longer fight the wind/Or have the wind to fight."
Posted 10/31/2013 09:41 AM
Jo:
Good for you. Terrific poem.
Posted 08/21/2013 10:38 PM
transitions:
The young never think the 'e' word will one day 'get' them too...great poem, much enjoyed, with empathy ~ Judy
Posted 08/21/2013 04:56 PM
Havenwood:
This reminds me of my dear mother who will be 86 next month. She can't go to the Senior Center because "there are too many old people!" Wonderful write!
Posted 08/21/2013 04:51 PM
paradea:
Wonderful poem! I love this line "But I no longer fight the wind/Or have the wind to fight". My mother once said you know you are old when people start calling you 'young lady'. I'm finding it true. Yikes.
Posted 08/21/2013 09:55 AM
erinsnana:
that was great!
Posted 08/21/2013 08:55 AM
peninsulapoet:
Love it!
Posted 08/21/2013 08:04 AM
Larry Schug:
Right on, dude!
Posted 08/21/2013 07:45 AM
vscholtz:
I say, old boy, That was grand!
Posted 08/21/2013 05:10 AM