a hundred and thirty pounds . . .
I thought he was gorgeous.
I timed all my locker breaks around his.
He didn't know I was alive.
When he doesn't smile back,
when he winks at someone else,
when you think, "This will be the day!",
Today, that boy will not tease you
Today, that boy will not ask you to
Today that boy will not notice that
you are amazing, and can talk about anything,
and have incredible eyes.
From 
Dancing with My Daughter: Poems of Love, Wisdom & Dreams
 (Loyola Press) 
Used here with the author's permission.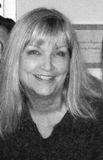 Jayne Jaudon Ferrer is the author of four books of poetry and a nonfiction books about games. A public relations specialist and freelance journalist, Ferrer speaks frequently at chuches, schools, and writing-related events. Her work has appeared in hundreds of publications, ranging from Boca Raton Magazine to Christian Parenting Today, and she is the host and editor of YourDailyPoem.com. Originally from Florida, Jayne now lives in Greenville, South Carolina. The mother of three sons, she enjoys reading, music, old movies, and good conversation. Learn more about Jayne at www.jaynejaudonferrer.com.
Ginny C.:
Good one.
Posted 08/29/2013 06:19 PM
transitions:
If I had been lucky enough to have a daughter I hope that this is what I woulds be wise enough to say. ("Roger", by the way...:) Judy
Posted 08/29/2013 05:16 PM
twinkscat:
Thanks for sharing. Wow! You have a lot of books.
Posted 08/29/2013 02:05 PM
Judith Heron:
Mostly, I love that you post your own poems among all the poets you so graciously support and... 'you are amazing'!
Posted 08/29/2013 01:24 PM
barbara eknoian:
I totally relate to this poem, especially hanging out by his locker. SWEET!
Posted 08/29/2013 12:27 PM
LindaCrosfield:
Love it, Jayne. Takes me back several decades!
Posted 08/29/2013 11:42 AM
rtaylor947@aol.com:
Great poem, Jayne. As I recall, it was pretty much the same for the boys.
Posted 08/29/2013 11:18 AM
wendy morton:
Lovely, Jayne. The someday always arrives, and then, often, several more somedays.
Posted 08/29/2013 09:47 AM
peninsulapoet:
There is nothing as bitter sweet as the first crush. Well captured,
Posted 08/29/2013 09:37 AM
Jo:
This really hits a memeory. Amazing how your poem took me right back to the lockers, the boys, etc. I missed him for a moment.
Posted 08/29/2013 09:35 AM
Buckner14:
Yep, this takes me back, no question.
Posted 08/29/2013 08:55 AM
CamilleBalla:
Love the poem and the great advice.
Posted 08/29/2013 08:51 AM
nancilee:
Whoops. Auto correct won again. A MOTHER'S love, etc.
Posted 08/29/2013 08:26 AM
nancilee:
You captured another's love, respect and faith in her daughter. A fine poem.
Posted 08/29/2013 08:25 AM
dotief@comcast.net:
Love it, Jayne! Been there and done that!
Posted 08/29/2013 08:13 AM
mimi:
o so true...brings back the intensity of that first love of mine--unrequited, of course! thanks Jayne...
Posted 08/29/2013 07:30 AM
gigi:
Great advice. Summer camp offered the same agony. And between the lines: a mother's love.
Posted 08/29/2013 05:40 AM
erinsnana:
Love this poem--and it's so true!!
Posted 08/29/2013 04:35 AM