now that it was fall too soon.
misting the air with the perfume
of mown grass and flushed children
catching fireflies at dusk.
when standing on the lawn
an orchestra conductor with her baton,
in the sweet smell of sultry heat
the pulse of the cricket's song
when the early chill of fall
This poem first appeared in Tall Grass: Seasons of Change (Summer, 2010).
Used here with the author's permission.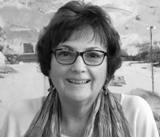 Gail Goepfert is a poet, amateur photographer, and teacher. Currently, she is an associate editor of RHINO Poetry. Her first chapbook, A Mind on Pain, was released by Finishing Line Press early in 2015, and her poetry and photos appear in numerous print and online publications. Gail lives  in the Chicagoland area. Learn more about her at gailgoepfert.com.
Rob:
I, too, love the hose/conductor metaphor, and those crooning flowers! Has a lot of humor, but also a wistfulness, that makes a lovely combination of feelings!
Posted 09/11/2013 10:35 AM
Gail Goepfert:
Thanks to all!
Posted 09/09/2013 06:39 PM
Jo:
Wilda's point is well taken. It made me look back on those sultry summers, and the sounds we no longer hear with our windows shut. Thanks so much Gail for this poem. Your images guide me back.
Posted 09/09/2013 01:20 PM
twinkscat:
I'm waiting for the early chill of fall now...
Posted 09/09/2013 10:34 AM
Wilda Morris:
I especially love the imagery of the third stanza - I see you there with the hose, conducting the flowers! Also the reminders of what we lost when we installed air conditioning, and sleep with windows closed.
Posted 09/09/2013 10:11 AM
loisflmom:
Here in Sarasota the "early chill of fall" probably won't happen until November--- and we will all be more than ready!
Posted 09/09/2013 08:38 AM
lincolnhartford:
Today, where I live in Wisconsin, the thermometer and the humidometer (my word) will both register readings in the nineties, and then thankfully the days moderate. The imagery of this lovely poem however matches this year's experience. The summer was wrong and now fall is confused. A setting for other kinds of poems.
Posted 09/09/2013 08:32 AM
fer:
I, for one, am happy to see the 'muggy nights' and 'sultry heat' pass to the early chill of fall, but nevertheless, I love this poem. The imagery is wonderful!
Posted 09/09/2013 06:44 AM