The luciferous old grouch
stumbles up the coast
from Assateague, grumbling
before he puffs up his chest
and bellows, bumping sheepish
clouds out of his way,
guffawing as his sheets of rain
pelt the golden heads of my silver dust.
© by Liz Dolan.
Used with the author's permission.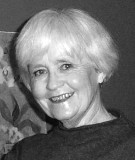 Liz Dolan, a retired English teacher who lives in Rehoboth, Delaware, has won numerous awards for her work, including five Pushcart nominations. As director of an alternative school in the Bronx, where she was born and raised, Liz helped increase attendance from 65 percent to 90 percent by initiating a daily program of writing across the curriculum. Mother of two and grandmother of nine--who "pepper her life," says Liz--she devotes several days a week to babysitting in between composing poetry, short stories and memoirs.
paradea:
I love it. I can see and feel this old grouchy storm's every move. So much fun to read again and again. Thanks for this poem.
Posted 09/11/2013 08:04 AM
rksanders@charter.net:
This poem delights me!
Posted 09/10/2013 10:03 AM
Larry Schug:
My kind of poem! And it's quite fun to say "guffawing" aloud.
Posted 09/10/2013 07:39 AM
Akayjohnson:
I so love this poem, is great
Posted 09/10/2013 06:24 AM
jimgustafson:
Really Really nice. I particularly like "pelt the golden heads of my silver dust."
Posted 09/10/2013 05:06 AM