One road leads to London, 
One road leads to Wales, 
My road leads me seawards 
To the white dipping sails. 

One road leads to the river, 
And it goes singing slow; 
My road leads to shipping, 
Where the bronzed sailors go. 

Leads me, lures me, calls me 
To salt green tossing sea; 
A road without earth's road-dust 
Is the right road for me. 

A wet road heaving, shining, 
And wild with seagull's cries, 
A mad salt sea-wind blowing 
The salt spray in my eyes. 

My road calls me, lures me 
West, east, south, and north; 
Most roads lead men homewards, 
My road leads me forth. 

To add more miles to the tally 
Of grey miles left behind, 
In quest of that one beauty 
God put me here to find. 
This poem is in the public domain.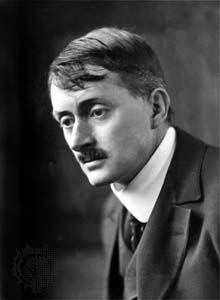 John Masefield (1878-1967) was an English poet, author, and playwright. Both his parents died while he was a child, and at the age of thirteen, annoyed with John's "addiction" to reading, the aunt in charge of caring for him sent him off to train for a life as a sailor. Although his experiences at sea provided much material for the stories and poems he would later write, John soon tired of that harsh life and, on a voyage to New York, he jumped ship. For two years, he worked at odd jobs in that city, using his free time for reading and writing. He eventually returned to England, married, had two children, and established himself as a significant literary talent. As his stature as a writer continued to grow, John became an internationally successful lecturer and was appointed as England's poet laureate, a position he held for nearly forty years. He actively wrote and published until he was 88 years old.
benning:
To my shame, I've never read this before. Blimey!!!!!!!!
Posted 11/27/2022 03:02 PM
CamilleBalla:
What a beautiful, energetic poem and one that I will remember even though I like being on land. Thanks for featuring this poem.
Posted 09/13/2013 08:43 PM
KevinArnold:
What a wonderful, hopeful, biography, and what a quatrain smack dab in the middle of the poem: that puts us right on a windswept coast: A wet road heaving, shining, / And wild with seagull's cries, / A mad salt sea-wind blowing / The salt spray in my eyes.
Posted 09/12/2013 09:09 AM