The air tears and mends itself back together. 
Crawling out from sleep, I peek between curtains . . .
Mist so thick the mountains and lake have vanished.
Only the nearest firs anchor me. 
The sky cracks. The cabin quakes--
Thunder reverberates off the water
amplifying the percussion so loud 
the picture window continues to vibrate.
Each blast crashes like a tidal wave
flooding the forest, then drains away
before the next giant surge.
In this cloud come to earth,
This poem fist appeared in Poetry Bay.
Used here with the author's permission.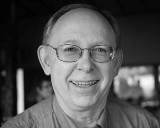 Mark Thalman lives in Forest Grove, Oregon, where he has taught 7th grade English for thirty years.  His poetry has been widely published in small presses, college reviews, anthologies, and e-zines for the last three decades. His book, Catching the Limit, was published by Bedbug Press - Fairweather Books as part of their Northwest Poetry Series. Mark has served as a Poet-in-the-Schools for the Oregon Arts Commission, Assistant Poetry Editor for theNorthwest Review, and board member of the Portland Poetry Festival. He is also an artist who enjoys painting wildlife scenes with acrylics. To learn more about Mark, visit www.markthalman.com. To purchase Catching the Limit, click on the book cover and contact Mark via his email address.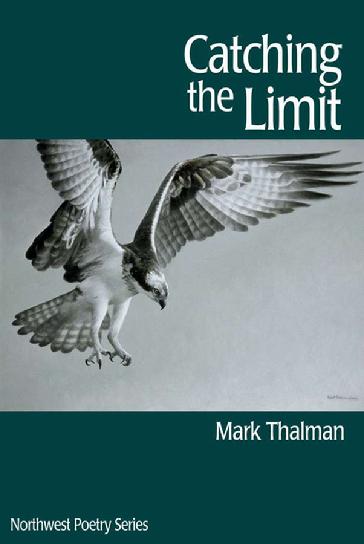 Dorcas:
I can take a thunderstorm if I am on the inside listening, listening on solid ground.
Posted 12/15/2013 06:27 PM
nancilee:
I have always loved a thunderstorm, the way it makes me feel alive. This poem captures the feeling i get when the thunder shakes the house and the lightning cracks across the sky and the rain comes in torrents.
Posted 09/15/2013 09:33 AM
transitions:
Love the last line as well; powerful poem ~ thanks... Judy
Posted 09/14/2013 11:54 AM
Jo:
Thank you Mark. I continue to follow you wherever you are. Love the first line. We are immediately drawn into the poem.
Posted 09/14/2013 11:03 AM
Ginny C.:
vivid imagery--and the cabin as an ark feels just right
Posted 09/14/2013 10:47 AM
KevinArnold:
Fun. Makes me want to close all the windows and double-bolt the door.
Posted 09/14/2013 08:53 AM