This rain misted day
White sheet of cloud overhead
as the stylus of lightning
draws its jagged line.
†A small survivor of the latest
hurricane trails his jacket through mud,
stops where the house stood last week,†
his head tipped like a satellite dish.†
A cuneiform of crow flashes sharp
script in the air, shrieks, and is gone.

He stands so still while he tries
to read the meaning of
what flashed through his life


© by Paula Schulz.
Used with the authorís permission.
†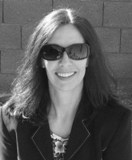 Paula Schulz has taught students in kindergarten, college, and a few grades in between. Involved with the Poetry People in Waukesha and, for the last two years, the Pewaukee Area Arts Council's ekphrastic project, Paula lives with her husband in Slinger, Wisconsin.
†
Ross Kightly:
Always: 'trying to read the meaning of what flashed through' - how true for all of us - many thanks Paula.
Posted 09/16/2013 03:35 AM
Jo:
Thanks Paula. It's a wonderful poem, so many terrific images--"a cuneiform of crow,' as the stylus of lightning draws it's jagged line.
Posted 09/15/2013 08:44 PM
transitions:
We hsve the rain here today ~ but without the storm, thankfully, that this poem reveals, both obvious and inner...I can just see this little boy trying to understand. Also, 'a cuneiform of crow' - just wonderful, Paula!
Posted 09/15/2013 05:04 PM
chris schulz:
Love the line, "as the stylus of lightning draws it jagged line" We have the same last name, Thanks Paula!!!
Posted 09/15/2013 11:42 AM
Janet Leahy:
Another winner here Paula, words so carefully chosen, we can see the devastation and hear the shriek.
Posted 09/15/2013 11:16 AM
Larry Schug:
What began as a "light-hearted" poem (at least, in my mind) became so much more. Very thought and spirit evoking words. The beauty of poetry--saying so much with so little. Excellent!
Posted 09/15/2013 11:09 AM
vscholtz:
I love the survivor trailing a jacket through the mud. Makes me think of the many reverberations of a storm.
Posted 09/15/2013 09:54 AM
tiddles:
"stylus of lightning,head tipped like a satellite dish, cuneiform of crow" Wow, Paula! Terrific word pairings and a wonderful poem. Hoping to hear you read in Waukesha next weekend. Marilyn
Posted 09/15/2013 09:44 AM