toward the southern horizon.
free of branches' clutch.
Mists curl like cats' tails
© by Merle Hazard.
Used with the author's permission.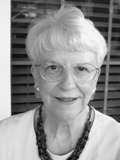 Merle Hazard lives in Macon, Georgia. Her poems have appeared in a number of secular and inspirational publications. A home health and hospice nurse for many years, she worked as a director of programs as well as at bedsides. Now retired, Merle enjoys reading, walking, playing bridge, and spending time with friends and family--including her two sons and five grandchildren.
Dorcas:
Thank you. So simply filled with the nature of it all.
Posted 09/28/2013 09:44 PM
CamilleBalla:
Oh, how I like this poem about autumn!! The 'copper leaves float free...' and the '...mysteries yet to come' lift me in flight this September day as I get ready for a day trip. Just yesterday I saw first signs - a few yellow leaves from the birch tree and that the days are moving too fast, but Merle's poem lifts me into the mystery of what is yet to come.
Posted 09/21/2013 08:23 AM
Jean D:
I too love the autumn season & so enjoyed this lovely poem. Autumn is so visual in a quiet sort of way. Jean D.
Posted 09/21/2013 07:51 AM
TheSilverOne:
Beautiful opening to my favorite season.
Posted 09/21/2013 07:30 AM
Wilda Morris:
Lovely way to start my morning - before I head out to see what it is like in the Gateway Wetlands this late September day!
Posted 09/21/2013 06:33 AM
Ross Kightly:
Lovely image [appreciated even by cat-detester] using the portentous nature of the feline species! Here in Yorkshire it is altogether a greyer affair than in parts of the US I suspect but people are still apt to step outdoors and mutter 'Autumnal aroma...' Splendidly atmospheric, evocative poem, thank you Merle.
Posted 09/21/2013 04:22 AM