There is some sense when
autumn begins,
that the world is being
smothered by a colorful blanket.
Trees lose their emerald
radiance; the edges
of their leaves turn yellow,
orange or scarlet. Days grow
shorter and shadows
linger. The nights come
with a chill like bathwater
left in the tub too long.
Flowers that bloomed in lush
profusion on my front
porch droop like tired children
fighting sleep. Vidalia onions

and garden tomatoes disappear
from grocery store shelves,
replaced by pumpkins and oddly
shaped squash.

When autumn arrives, winter
Is only a frozen breath away,
bringing cold
and slush, runny noses and hacking
coughs, gray mornings
and twilight afternoons. It is the season

that swallows summer
like it never was—as if young girls
in sundresses were never kissed
in the moonlight,
or baseballs never soared
over a fence. There were no barbecues
or mosquito bites, sandals filled
with sand on the deck. Autumn
shakes the summer
from our minds until it falls like leaves,
skittering down an empty street.

From Thread Count (AuthorHouse, 2006).
Used here with the author's permission.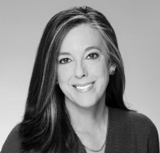 Terri Kirby Erickson is the author of three collections of poetry, including In the Palms of Angels, which won a Nautilus Silver Award for Poetry and a gold medal in the Next Generation Indie Book Awards. Her work has appeared, or is forthcoming, in Ted Kooser's American Life in Poetry, 2013 Poet's Market, The Christian Science Monitor, storySouth, Verse Daily, and many others. Terri is the mother of a grown daughter, and lives near Winston-Salem, North Carolina with her husband of many years. Learn more about her at http://terrikirbyerickson.wordpress.com.
transitions:
Love this poem; it echoes my thoughts ~ I don't like autumn, unlike so many who live here...for what it portends -lovely leaves aren't 'enough' compensation for the loss of summer joys, at least, not for me... Judy
Posted 09/22/2013 04:36 PM
msruff:
Beautifully written, from someone who loves the summer and mourns its passing every time it leaves.
Posted 09/22/2013 10:33 AM
KevinArnold:
Wonderful--this works on many levels for me.
Posted 09/22/2013 09:34 AM
Carol Hauer:
I like the juxtaposition of fall and summer images...fall swallowing up summer...very nice.
Posted 09/22/2013 07:55 AM
TheSilverOne:
Loved this...a joy to read.
Posted 09/22/2013 07:06 AM
Ross Kightly:
Some of us think it is difficult to be too hard on winter... and this is a finely-balanced poem treading lightly along that narrow ridge between the ooze lake of sentimentality and the barren scree slopes of rampant irony - and dancing beautifully all the way.
Posted 09/22/2013 06:20 AM
Julie Carlile:
Very pretty.
Posted 09/22/2013 06:03 AM