Above the quiet dock in midnight,
Tangled in the tall mast's corded height,
Hangs the moon. What seemed so far away
Is but a child's balloon, forgotten after play.
This poem is in the public domain.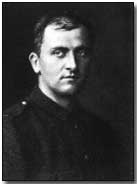 Thomas Ernest Hulme (1883-1917) was an English journalist and translator. Kicked out of Cambridge for a prank, he studied math and philosophy, taught English, and revolutionized poetry before enlisting in the British Army and getting killed in battle.Widely admired for his intellect, ideology, and joie de vivre, many say the world--certainly, the world of letters--was irrevocably changed by Thomas's premature death. Many poets cite Thomas' endorsement of free verse and strong imagery as a significant influence in their work, including Ezra Pound and T. S. Eliot. Ironically, Thomas only wrote and published six poems in the course of his life.
Wilda Morris:
What a lovely image. Thanks for sharing this poem! It is sad that he died so young. We don't often think how much we all lose in the deaths of the young in war.
Posted 10/22/2013 10:04 PM
TheSilverOne:
I looked up his other poetry. A beautiful voice, silenced too soon! Doris Bezio
Posted 10/20/2013 05:11 PM
Ross Kightly:
Yes, Jayne - thank you for including this gem - Hulme is certainly one who is easily overlooked - but to the cost of one who does so. And, fer, if you had been in one of my English classes rather too many years ago you might have read this with me. The image of the balloon is irresistible - a perfect demonstration of the value we can derive from the Imagistes in general. And for Ralph, Penguin did publish an anthology of Imagist Poetry in which Hulme's six poems may be found along with a lot of other nice stuff....
Posted 10/20/2013 11:20 AM
KevinArnold:
Great find. "a child's balloon, forgotten after play."
Posted 10/20/2013 10:00 AM
fer:
Six poems.... That is really sad. I would have loved this one as a child, but I'm glad to have it even at 66!
Posted 10/20/2013 09:57 AM
Ralph Murre:
Thank you, Jayne, for posting this wonderful, simple piece -- and for filling this gap in my poetic education. Somehow, I'd never heard of Hulme before, and must now find the entire six poem "collected works".
Posted 10/20/2013 08:57 AM