When a woman looks up at you with a twist about her eyes,
And her brows are half uplifted in a nicely feigned surprise
As you breathe some pretty sentence, though she hates you all the while,
She is very apt to stun you with a made to order smile.

It's a subtle combination of a sneer and a caress,
With a dash of warmth thrown in to relieve its iciness,
And she greets you when she meets you with that look as if a file
Had been used to fix and fashion out the made to order smile.

I confess that I'm eccentric and am not a woman's man,
For they seem to be constructed on the bunko fakir plan,
And it somehow sets me thinking that her heart is full of guile
When a woman looks up at me with a made to order smile.

Now, all maidens, young and aged, hear the lesson I would teach:
Ye who meet us in the ballroom, ye who meet us at the beach,
Pray consent to try and charm us by some other sort of wile
And relieve us from the burden of that made to order smile.
This poem is in the public domain.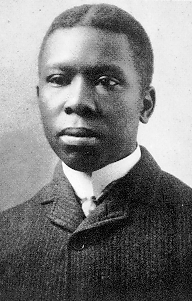 Paul Laurence Dunbar (1872-1906) was from Ohio. He wrote his first poem at the age of six, was editor of his high school newspaper, and published his first book at twenty. His writing attracted attention from the very beginning, and Paul became well-known in both America and around the world. Like James Whitcomb Riley, who was a fan of his young contemporary's work, Paul wrote many of his poems in dialect. Besides a dozen books of poetry, Paul wrote four short story collections, five novels, a play, and the first  Broadway musical ever written and performed by African-Americans. A tremendously successful poet whose work was being published in all the major literary publications of his day, Paul's life was cut tragically short by tuberculosis.
Ross Kightly:
I agree with you, Jayne, about the source of the smile - I certainly do not think guile is gender-specific, which is a fairly typical nineteenth-century stereotype - nevertheless this poem contains some wonderful things - and I also agree with Larry on rhyming poetry in the 21st century. Worth having a go at but essential to avoid servitude to the time-and-again, less-than-sublime chime of rhyme...
Posted 10/25/2013 01:50 AM
lincolnhartford:
Poem constructed so cleanly and cleverly, and with fresh thought driving home his final universal and personal plea. A good man, poet.
Posted 10/24/2013 09:38 AM
TheSilverOne:
Timeless, clever poem.
Posted 10/23/2013 08:28 AM
dotief@comcast.net:
I love Dunbar's work, and this is another one of his gems. "Sympathy" is my all time favorite.
Posted 10/23/2013 08:14 AM
Larry Schug:
There's a lot to be said for rhyming poetry, though a little goes a long way. This is a good poem. Men can have that same smile, too, eh?
Posted 10/23/2013 06:24 AM
Katrina:
I love Paul's paradoxes. This reminds me of Gabrielle Roth's comment on 'the perennial happy face'.
Posted 10/23/2013 05:09 AM