The goldenrod's tarnished and dull, gone to rust,
as the Dow Jones plummets like the mercury
on a January night, echoing Frost's warning
that nothing gold can stay. Not the birch
leaves that glittered like sequins on a tap
line, not the marigold's petals, not the finch's
wing. It falls through our fingers, pebbles
in a placer's pan. We try to spend it,
but the days are too short, and the stores
won't give us credit. We try to bank it,
but our password is denied. When the clocks
give back their hour, when it's dark at dinnertime
as a politician's heart, where do those minutes go?
Do they jangle their golden music as they slip
through the holes in our linty pockets
to fall on the frozen hard ground?
From
Gold
(Cascade Books, 2013).
Used here with the author's permission.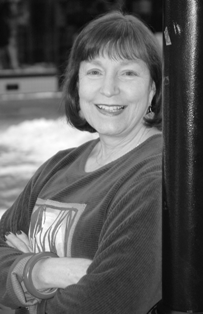 Barbara Crooker's poems have appeared in numerous magazines, journals, and anthologies and have been featured on the BBC, the ABC (Australian Broadcasting Company),

The Writer's Almanac

, and in the Poetry at

Noon

series at the Library of Congress. Her awards include the Thomas Merton Poetry of the Sacred Award, three Pennsylvania Council on the Arts Creative Writing Fellowships, fifteen residencies at the Virginia Center for the Creative Arts, a residency at the Moulin à Nef in Auvillar, France, and a residency at The Tyrone Guthrie Centre in Annaghmakerrig, Ireland.
Barbara lives in Fogelsville, Pennsylvania
;
read more about her at
www.barbaracrooker.com
.
Wilda Morris:
What creative images!
Posted 11/04/2013 08:20 PM
dotief@comcast.net:
I agree. Fantastic images!!!
Posted 11/04/2013 04:11 PM
Jo:
The images, the images--Oh Barbara, such insight.
Posted 11/04/2013 03:28 PM
LindaCrosfield:
Love it.
Posted 11/04/2013 01:07 PM
ghctenmile@earthlink.net:
"...We try to bank it but our password is denied" "...dark at dinnertime as a politician's heart" These, and so many other images in your poem! Thanks for it.
Posted 11/04/2013 12:44 PM
wendy morton:
so much in this poem to love, so spare, so golden.
Posted 11/04/2013 10:05 AM
penhart:
I love this poem, Barbara, and the whole book as well! Bravo!
Posted 11/04/2013 09:31 AM
KevinArnold:
I like "It falls through our fingers, pebbles in a placer's pan. We try to spend it,"
Posted 11/04/2013 08:22 AM
Marilyn L Taylor:
Another winner, Barbara.
Posted 11/04/2013 08:06 AM
ed werstein:
great poem, Barbara. Thanks.
Posted 11/04/2013 08:01 AM
mimi:
shiny bright poem for a dull gray Monday morning...thanks!
Posted 11/04/2013 07:27 AM
Larry Schug:
Just right!
Posted 11/04/2013 07:20 AM
paradea:
I agree with Phebe!! Here's some awe-inspiring talent.
Posted 11/04/2013 07:15 AM
erinsnana:
I loved this!
Posted 11/04/2013 06:52 AM
phebe.davidson@gmail.com:
Yes, yes, and yes. This is wonderful work!
Posted 11/04/2013 05:53 AM