Ambitious politicians
will mass reproduce themselves
to gather votes
And once in power
they will without doubt eliminate
their blood replicas
knowing full well
that they are every cell
as power hungry
as themselves
This poem first appeared in Prairie Light Review (Spring 1997).
Used here with the author's permission.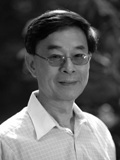 William Marr came to America from Taiwan in 1961. After receiving a master's degree in mechanical engineering and a PhD degree in nuclear engineering, he worked at Argonne National Laboratory in Chicago for 27 years before retiring to devote his full time and energy to his true passions: poetry and art. A former president of the Illinois State Poetry Society, William has published 21 volumes of poetry (Autumn Window and Between Heaven and Earth are in English; the rest are in Chinese), two books of essays, and several books of poetry translations. His poems are included in over one hundred anthologies, ranging from high school and college literary textbooks to special collections, and have been translated into more than ten languages. In recent years, William has also pursued painting and sculpting. Learn more about him at http://wmarr9.home.comcast.net/bmz.htm.
twinkscat:
Thanks for sharing, Bill. I agree.
Posted 11/05/2013 10:19 PM
Wilda Morris:
A good one, Bill. The title is witty!
Posted 11/05/2013 09:21 AM
Katrina:
Yes - it is always noisy when politicians start talking about talks.
Posted 11/05/2013 08:40 AM
Charly:
Wonderful!
Posted 11/05/2013 06:52 AM