Tuesday smokes and rises
through cotton drapes and I
stand in the doorway asking
what have I done what can I do
what should I do what will I do?
© by Gary Busha.
Used with the author's permission.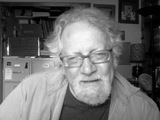 Gary Busha is a Wisconsin native who likes that state's changing seasons. His poetry—lean and plain-spoken, with themes of nature and lament—is strongly influenced by his good fortune in having grown up on Lake Winnebago. A poetry chapbook publisher for many years, Gary has three chapbooks of his own, which he claims are the better for having studied such a wide range of poetic styles over the years. Most recently, he's created a mini-chapbook series of haiku and small poems, called On the Dock, Rhyme Tyme, and Canoe Haiku.
Jo:
Perfect, Gary.
Posted 11/19/2013 11:45 AM
mimi:
so true...lovely poem, Gary
Posted 11/19/2013 09:54 AM
Ralph Murre:
Ahhhh. Just right.
Posted 11/19/2013 09:03 AM
ed werstein:
Excellent, Gary.
Posted 11/19/2013 07:53 AM
rksanders@charter.net:
You have captured my mood on many days, Gary. It feels like an affirmation.
Posted 11/19/2013 07:47 AM
rnordstrom:
Very nice, Gary
Posted 11/19/2013 05:18 AM