How beautiful is night!
A dewy freshness fills the silent air;
No mist obscures, nor cloud, nor speck, nor stain,
Breaks the serene of heaven;
In full-orb'd glory, yonder moon divine
Rolls through the dark blue depths.
Beneath her steady ray
The desert-circle spreads
Like the round ocean, girdled with the sky.
How beautiful is night!
This poem is in the public domain.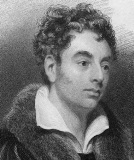 Robert Southey (1774 - 1843) was an English writer whose work included poetry, plays, biographies, nonfiction, and children's stories. A friend of Samuel Coleridge (their wives were sisters) and William Wordsworth, Robert served as Poet Laureate of England for thirty years; his best known work is the original tale upon which ?Goldilocks and the Three Bears" is based--though the version we know today differs significantly. 
Eiken:
Always beautiful :)
Posted 11/21/2013 06:45 AM
Sherry:
I like best the moon and ocean images. Thanks, Jayne!
Posted 11/20/2013 09:05 AM
KevinArnold:
All those missing obscurations: No mist obscures, nor cloud, nor speck, nor stain,/ Breaks the serene of heaven;/ Perhaps, in this case, four negatives do indeed make a positive or at least a very clear night.
Posted 11/20/2013 08:44 AM