Into my heart's treasury
I slipped a coin
That time cannot take
Nor a thief purloin,
Oh better than the minting
Of a gold-crowned king
Is the safe-kept memory
Of a lovely thing.
This poem is in the public domain.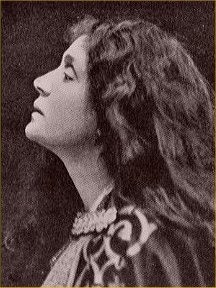 Sara Teasdale (1884 - 1933) was a Missouri-born poet afflicted with poor health from birth. She loved one man but married another, divorced, lost her best friend to suicide, and eventually committed suicide herself. Ironically, a majority of her poems are about love and beauty, and she won the first Pulitzer Prize for poetry in 1918. There are some similarities to be drawn between Sara and Emily Dickinson; both were reclusive, both wrote intensely personal poetry that frequently focused on nature, both knew unrequited love.
CarpeDiem:
... on my mother's gravestone. she loved this poem.
Posted 10/20/2019 03:25 PM
touston:
I too memorized this poem, like jeaniaraye. I don't know why it sticks with me but maybe because of the beauty of the words. I have shared this poem with many people who have lost someone - most recently the funeral of my son in-law's brother. His brother committed suicide - PTSD. Ironic that the poet also committed suicide.
Posted 12/21/2016 09:02 AM
jeaniaraye:
This is the first poem I ever memorized as a young child. I have carried it in my heart over the years. I am now 71 years of age and can still quote it perfectly.
Posted 10/10/2015 12:36 AM
dotief@comcast.net:
Love Sara's poetry! Powerful in its simplicity. Wonderful!!!
Posted 11/21/2013 09:32 AM
KevinArnold:
Oh as an admirer of the concise I'm enthralled. No specifics, just a lovely thing.
Posted 11/21/2013 08:21 AM
Jo:
I just slipped the poem into my heart.
Posted 11/21/2013 08:05 AM
rksanders@charter.net:
This poem is one of the "coins" slipped into my heart when, as a 7th grader, I memorized it.
Posted 11/21/2013 06:35 AM
TheSilverOne:
Beautiful memories keep us going. This poem, itself, is "a lovely thing".
Posted 11/21/2013 04:22 AM