An omnibus across the bridge
Crawls like a yellow butterfly
And, here and there, a passer-by
Shows like a little restless midge.

Big barges full of yellow hay
Are moored against the shadowy wharf,
And, like a yellow silken scarf,
The thick fog hangs along the quay.

The yellow leaves begin to fade
And flutter from the Temple elms,
And at my feet the pale green Thames
Lies like a rod of rippled jade.

This poem is in the public domain.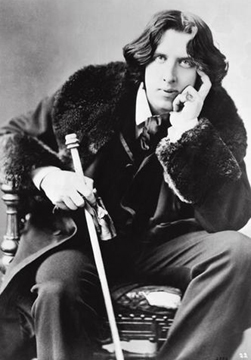 Oscar Fingal O'Flahertie Wills Wilde, better known as Oscar Wilde (1854 - 1900), was an Irish poet and author and is considered one of the greatest playwrights of the Victorian era. The son of unconventional parents, both of whom were writers themselves, Oscar was an outstanding student who demonstrated literary talent from an early age. An avid and vocal devotee of aestheticism--the belief in art for art's sake--Oscar traveled extensively lecturing on its merits, and was an instant celebrity when he arrived in America. Outspoken and flamboyant in his lifestyle and dress, Oscar was similar to Walt Whitman in that he had as many detractors as he did fans. His charm and wit were undeniable, though, and many of his wry remarks and clever comebacks are preserved in quotation books today. Oscar's life and work inspired numerous films and biographies, but he died penniless in Paris at the age of 47.
rhonasheridan:
It's true - London fog did make everything yellow. It is just dull old grey these 'clean air' days. It is certainly healthier- but has not got the rather spookier. Of years gone by.
Posted 11/01/2014 02:03 AM