with nothing to do
so that's what we do with it
morning hazy fog banking in
huffy gulls pacing the flats
a book not good but thick
untroubled on our lap
letters we mean to write
unwritten again and again

until the last of the mist burns
off into afternoon so we let it
plenty of time for too much
coffee and cigarettes until

the belly feels like lunch
so it's yesterday's daily bread
and a small handful of beans
ripened in the sunny garden

we wish to sleep so
sleep comes and goes lightly
as waking shadows crawl
towards a late supper

of ripening peach and pear
cheese we forgot we still had
and tea we thought we ought
to have saved for tomorrow.
From Pity the World: Poems New and Selected (Plain View Press)
Used with the author's permission.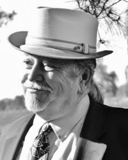 Bruce Taylor is finishing his second term as Poet Laureate of Eau Claire, Wisconsin. He is the author of nine collections of poetry, including The Longest You've Lived Anywhere: New & Selected Poems 2013. Learn more about Bruce at http://people.uwec.edu/taylorb/.
dotief@comcast.net:
Just wonderful!
Posted 11/02/2014 02:34 PM
Dorcas:
Wallowing in plenteous, replete to the gills. What to do.
Posted 11/02/2014 11:23 AM
wordsmith:
Wonderful!
Posted 11/02/2014 10:30 AM
rhonasheridan:
This could only have been written by a man!
Posted 11/02/2014 08:39 AM
Larry Schug:
A fine poem, full of word pictures, nonetheless a poem of the privileged, including myself. Not a criticism, but it seems in the way my thoughts are trending this morning, these things sometimes need to be recognized.
Posted 11/02/2014 07:57 AM
paradea:
Lovely!!
Posted 11/02/2014 06:49 AM
phebe.davidson@gmail.com:
I particularly admire the closing stanza of this one---what a wonderful to turn to end on!
Posted 11/02/2014 06:15 AM