Looking at my hands
—

the ragged edges, broken nails
—


I am like a truant child. Hat and gloves stuffed
in my pocket, yanking them out before I get home,
afraid the mitten mother won't give me any milk
if my hands aren't cared for and warm.

But the soil is so wet in December, the leaves
an earthen spa, my hands love the feel of it.
And the roses ? they will prick me anyway
—


want for the touch of bare fingers, such delicate work.
How else would I feel the dew on their leaves?

The moon, I suppose, doesn't really mind
if my hands are bare or gloved. It shines anyway.
So my heart always leaves the garden gloves
in my basket. Urgent to do winter's beckoning
I wait until morning to be aghast.


© by Judith Heron.
Used with the author's permission.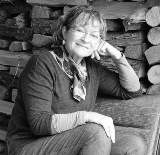 Judith Heron lives in Victoria on Vancouver Island. She has been published in a number of chapbooks edited by Patrick Lane, and in three anthologies: A Murder of Crones (Ptarmigan Press 2007), The Wild Weathers: a gathering of love poems (Leaf Press 2012), and Poems from Planet Earth (Leaf Press 2013). Though she has always lived on the west coast of Canada, Judith cherishes the homestead traditions of her prairie heritage. She is currently in the final edit of THE JAM MAKER, her first book-length manuscript.
plgoodman:
This really strikes a note, Judith. Fine, fine poem, beautiful images. You nailed it.
Posted 12/04/2013 06:42 PM
Suz:
"So my heart always leaves the garden gloves in my basket." Such a vision, such fact of her heart. It does stirr my curiosity about the rubber boots she must wear...loved it! -Suz
Posted 12/04/2013 05:22 PM
paula:
Great. Earthy. Lovely.
Posted 12/04/2013 02:27 PM
wendy morton:
Our bare hands. How else do we feel the earth? How else do we hear its songs? Lovely.
Posted 12/04/2013 11:03 AM
dmahoney:
Yes, pruning roses is such delicate work! It's the little stings you feel later, and the tiny splinters you can hardly see... 'Love the phrase, "mitten mother won't give me milk." Great poem and a reminder that I still need to mulch my roses... 'Missed seeing you at this fall's retreat.
Posted 12/04/2013 10:34 AM
paradea:
I'm with you, Gail!! What a beautiful and soulful poem. Love it!
Posted 12/04/2013 09:03 AM
VNesdoly:
Hi Judith, As a fellow Canadian, British Columbian, and gardener, I can completely relate to your hands' earth-hunger. Wonderful poem. I love "an earthen spa, my hands love the feel of it." For someone with peasant hands, born with dirt under my fingernails, I say "yes!"
Posted 12/04/2013 08:59 AM
gailcomorat:
One of the loveliest poems I've read on this site. I love the repetition of the word anyway: they will prick me anyway/It will shine anyway. Yes, that is life! I look forward to this poet's first book. Count me in!
Posted 12/04/2013 08:41 AM