Mom, who's that man on the steps?
     Just somebody passing through.
Why is he eating out there?
     He said he liked it outdoors.
How did he know where we lived?
     I guess they tell each other.
     Back to the train, I think.
Why did he call you "Ma'am"?
     I think he was just being polite.

This poem first appeared in Verse Wisconsin.
Used here with the author's permission.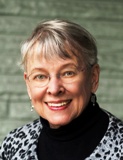 Peggy Trojan retired from teaching English to the north woods of Wisconsin. She enjoys quilting, gardening, picking wild berries, and writing poetry. A member of the Wisconsin Fellowship of Poets, she writes about family, her surroundings and her observations about life.
Dorcas:
What a lesson for a child.
Posted 12/07/2013 10:08 AM
twinkscat:
Wow! This is a real piece of history. Loved it. You might check out the novel, Housekeeping, my favorite book.
Posted 12/05/2013 07:01 PM
paradea:
Wonderful poem! I love dialogue!
Posted 12/05/2013 02:58 PM
ed werstein:
Excellent work, Peggy!
Posted 12/05/2013 11:13 AM
Judith Heron:
This poem is in itself a beautiful ripe berry. The way you have written it, like a duet, Peggy...guitar and dulcimer...such simple strains...so much to say. It graces my day.
Posted 12/05/2013 11:06 AM
Wilda Morris:
This brings back memories of stories I heard in childhood - hobos who came to my grandparents' door, and to the parsonage at the First Baptist Church. They knew they would get a meal.
Posted 12/05/2013 09:54 AM
Katrina:
Beautifully, this reminds me of Christina M. Norcross's poem, ONE STORY, prompted by the quotations from Charlie Kaufman: "There are nearly thirteen million people in the world. None of those people is an extra. They're all the leads of their own stories." — from the film Synecdoche, New York
Posted 12/05/2013 09:44 AM
KevinArnold:
Very nice poem. So concise--a trim poem taking advantage of form to eliminate quotation marks, attribution, and all that stuff fiction writers have to deal with.
Posted 12/05/2013 08:53 AM
TheSilverOne:
I knew a hobo..left home at the age of 12 during the depression years and rode the rails for food and work. This reminded me of his life. Thank You!
Posted 12/05/2013 08:29 AM
gretchenfriel:
Peggy, this is awesome, I can hear Woody Guthrie singing. Imagine how happy the hobo was for a fried egg sandwich!
Posted 12/05/2013 06:06 AM
Contents of this web site and all original text and images therein are copyright © by Your Daily Poem. All rights reserved.
As an Amazon Associate I earn from qualifying purchases. Purchasing books through any poet's Amazon links helps to support Your Daily Poem.
The material on this site may not be copied, reproduced, downloaded, distributed, transmitted, stored, altered, adapted,
or otherwise used in any way without the express written permission of the owner.