A weightless bird descends
Trilling her evening song
Leaving the branch to sway

© by Deborah Hauser.
Used with the author's permission.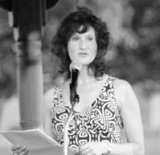 Deborah Hauser is the author of Ennui: From the Diagnostic and Statistical Field Guide of Feminine Disorders (Finishing Line Press, 2011). She received a Masters in English Literature from Stony Brook University and has taught at Stony Brook University and Suffolk County Community College. Deborah lives on Long Island and works in the insurance industry when she isn't writing poetry.
sei:
Gorgeous, just gorgeous...
Posted 12/09/2013 08:12 PM
anne.lehman2929@att.net:
That is a beautiful image, thanks.
Posted 12/09/2013 11:36 AM
mimi:
lovely Oriental quality to the poem...
Posted 12/09/2013 08:21 AM
Eiken:
Wonderful
Posted 12/09/2013 07:10 AM
jedolphin:
A moment, a thought, an image perfectly captured.
Posted 12/09/2013 06:59 AM
blueskies:
The Weight of Absence... alongside Under blooming emptiness. An insightful journey between motion & emotion. Thank U!
Posted 12/09/2013 06:50 AM
John:
A fine, slender image, rather like a Japanese scroll painting.
Posted 12/09/2013 06:29 AM
Katrina:
I love this - nothing more to add.
Posted 12/09/2013 04:37 AM
Contents of this web site and all original text and images therein are copyright © by Your Daily Poem. All rights reserved.
As an Amazon Associate I earn from qualifying purchases. Purchasing books through any poet's Amazon links helps to support Your Daily Poem.
The material on this site may not be copied, reproduced, downloaded, distributed, transmitted, stored, altered, adapted,
or otherwise used in any way without the express written permission of the owner.